MAX and Ali Gatie deliver good-feeling music in their latest release
"Butterflies" is the newest song to add to your chill or love playlist, so don't miss out on it!
Artists MAX and Ali Gatie released their newest song, "Butterflies," in June of 2021. This is a love song about feeling the same "butterflies" in their stomach, no matter how long they have been with this person. 
Ali Gatie is an Iraqi-Canadian R&B singer, who came to fame after his 2019 song, "Moonlight." He was born in Yemen, then was raised in Abi Dhabi before moving to Toronto. He is one of the few Iraqi artists that has found a place in the mainstream. His first album, YOU, was released on November 8, 2019. The album included some of his most popular songs to date including, "It's You" and "Moonlight." You can find the background information of each song on this album on Apple Music or the Genius website. Gatie recently released his new album, The Idea of Her, in March of 2021. "Butterflies" follows the same theme as his previous music, which consists of a slower tempo and warmer feelings. 
Max Schnieder, also known as MAX, is a singer, songwriter, actor, and model, from Manhattan, New York. He is mostly known for his acting, in which he starred in shows such as the Nickelodeon show, How to Rock, and movies such as Rags. These were both from 2012, and he has not been very active since 2017. 
Schnieder's most popular song, "Lights Down Low," brought upon his fame in the music industry. This song went double platinum in the United States, Platinum in Canada, and even Gold in Australia. This song was released in 2016 and has since released his album, Color Vision, featuring big artists such as Lil Mosey and Quinn XCII. 
"Butterflies" was written by MAX to reaffirm the love he has for his wife, and also in celebration of his daughter being born. Warm energy certainly radiates from this song. While it does lapse into the traditional musical tropes of R&B –"soulful singing over a strong backbeat"– the rich and honest vocals of Gatie and MAX certainly carry the song in a time when autotune dominates the airwaves. Jackson McMenamin'23 says that, "I love the heartfelt vocals that are given, it felt like they were talking directly to me as a listener, which I really appreciated." This is a song that he truly enjoys and he feels like it reminds him of "better days." 
Upon hearing "Butterflies" for the first time, I thought the song was catchy and it had a great melody. As I listened more closely to the music, I found it very endearing and the chorus is my favorite part of the song. The chorus includes the verses, "You won't stop running through my mind, For the rest of both our lives, You give me butterflies, And I keep on getting, butterflies." These lyrics are making a promise to MAX's partner that they will be together for the rest of their lives, and that in this time he will love her with the same magnitude as he does now. The song is not only catchy, but also calming. Gatie's soothing voice never fails to make me feel more peaceful and mellow. Aubrey Herrera'23 shares that, "This song is really calming and helps me relax." She loves this song because it puts her in a relaxed state when she gets stressed. 
I would definitely recommend this song if you need to put yourself in a good mood, or you are in a relaxed mood. I would also recommend both of these artists, and you can find songs for any mood you might be in. 
About the Contributor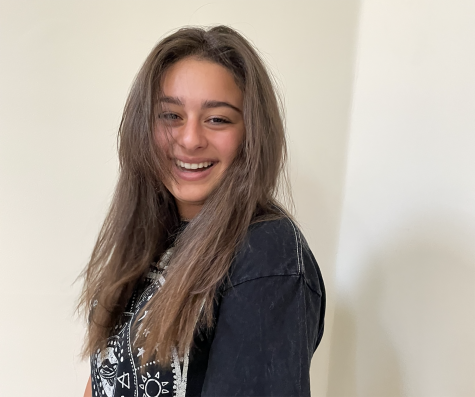 Taylor Evans '23
Taylor Evans is a junior, making her a member of the Class of 2023. Her favorite things to do are listening to music and going to concerts. Taylor also...