Fa-La-La-Liday Movie Recommendations
Nothing gets you more in the holiday spirit like curling up on the couch with a steaming cup of hot chocolate to watch a Christmas movie. They're made to boost your dopamine levels and fill you with a warm, cozy feeling inside. Here are some of the greatest Christmas movies anyone will enjoy and give you a merry good time!
"The Polar Express" will make you believe in the magic of Christmas again. A classic that one can watch every year without getting bored, the movie is filled with elf-lit wonder. The nameless hero boy (voiced by Daryl Sabra) does not believe in Santa Claus and wakes up in the middle of the night on Christmas Eve to witness a train pull up in his front yard awaiting to take him to the North Pole to meet Santa Claus. Filled with multiple musical numbers, thrilling plot twists, and a satisfying ending, the film (narrated by Tom Hanks) teaches the importance of believing in something. (Rating G)

The romantic comedy "Last Christmas" is simultaneously warm and heart-wrenching. Awkward, clumsy Kate (Emilia Clarke) is a struggling actress temporarily making money as an elf in a Christmas decor shop and meets charming Tom (Henry Golding) who seems too perfect to be true and teaches her the importance of giving back during the holidays and self-improvement. The film covers same-sex unions, homelessness, and antiimmigrant prejudice but still puts you in the holiday spirit. (Rating PG-13)

"Santa Clause 3: The Escape Clause" is arguably the best out of the "Santa Clause" trilogy. The story revolves around Jack Frost (Martin Short) who feels unimportant and neglected during the holiday season and tries to take Scott's position (Tim Allen) as Santa Clause. The movie is packed full of humor and puts an interesting twist on the "antagonist" typical storyline and produces something heartfelt. (Rating G)

Hulu's new original romantic comedy "Happiest Season" portrays the comedic side of Kristen Stewart, who is typically known for her iconic role as Bella Swan in the drama "Twilight." She plays Abby, a woman who gets invited over to her girlfriend (McKenzie Davis) Harper's house for Christmas but is forced to pretend she is Harper's straight friend who has not come out to her family yet. According to Variety, "the movie had the best viewership for any original film on the service in its opening weekend, and attracted more new subscribers than any other previous feature title." The film was a fresh depiction of a queer holiday love story and portrayed complex and compassionate characters. (Rating PG-13)

The Netflix original romantic comedy "A Christmas Prince" is a fun and easy watch to destress from before holiday madness. An aspiring young journalist Amber (Rose Mclver) is sent to Eastern Europe to report on Prince Richard (Ben Lamb) who is about to be crowned king and finds herself falling for him. Though remarkably cheesy, the movie is very sweet and compels you to believe in happy endings. (Rating PG)
About the Writer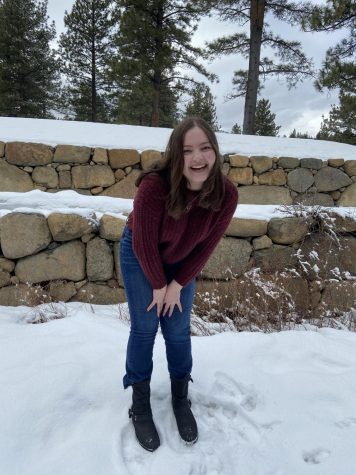 Paige Ganim, Co-Editor-in-Chief
I am co-editor of the Knight Online  and am a part of the class of 2021 at Notre Dame. At school, I am a member of the Spanish National Honors Society,...