COVID Continues…
As COVID-19 Cases Rise, There are New Stay At Home Orders and the Pfizer Vaccine Rollout Begins
Since the holiday season, COVID-19 cases in Southern California have been rising at a faster rate than ever before. As the death count reaches 28,565 and the total confirmed cases surpasses 2 million, Los Angeles County is desperately seeking to slow the spread in order to protect essential workers, those at highest risk for COVID, and essentially, everyone. 
The first recent attempt to slow the current rapid wave, a Limited Stay Home Order was put in place on November 21st, which instructed citizens to stop any nonessential activities from 10pm-5am and to limit the interaction between individual households. In regards to entertainment production and professional sports, they were allowed to continue with no live audience as they have been doing. Because LA county citizens failed to follow CDC guidelines and Stay Home Order rules for Thanksgiving, it was no surprise a new surge of cases appeared. Soon after, on December 3, a New Regional Stay Home Order was announced. In addition, a supplementary order was signed on the 6th of December that states the Regional Stay Home Order will be put into play at 11:59 PM the day after a region has less than 15% ICU availability. The order also continues to prohibit, "private gatherings of any size, close sector operations except for critical infrastructure and retail, and require 100% masking and physical distancing in all others."
Going into mid-December, death counts that were averaging double digits on the worst days began to average triple digits on the worst days. A health official told the Los Angeles Times that LA County is on the brink of becoming the epicenter of the Covid-19 pandemic. The amount and rate at which Californians are becoming infected and passing away from the virus is the highest worldwide.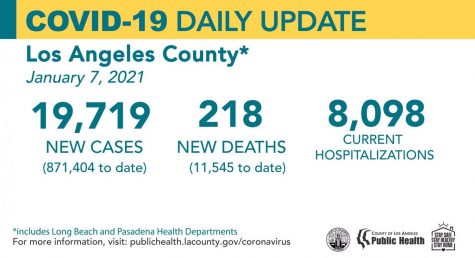 Hospitals all over Los Angeles are overcrowded, and the most horrifying issue is ICU availability, as of December 18, has hit 0%. Over 1000 Califoranians lay in the County's ICU unit, 4 times the number since the beginning of November. However, this does not mean that there are no beds available, but it does mean that if anyone with a serious non-COVID related medical crisis were to come into a hospital in need of immediate and intensive care, they cannot be treated as efficiently or maybe even at all and now have a higher risk of passing away from an injury that they otherwise could have survived. Hospitals are full and understaffed, pushing frontline workers to their limits.
 Dr. Brad Spellberg, chief medical officer at Los Angeles County-USC Medical Center, sadly explains "We are not at the stage yet at which other parts of the world, including in the United States, have suffered catastrophic consequences. But we are heading in that direction. And if we don't stop the spread, our hospitals will be overwhelmed. If you have a heart attack, if you get into a car accident, if you fall off a ladder or have a stroke, we may not have a bed for you."
Looking at the state as a whole, at the beginning of December, California was averaging about 17,800 new COVID cases per day. Since then, the average number of cases daily has doubled. Fortunately, though, the Pfizer and Moderna vaccines were the first two approved by the FDA in the U.S. and have begun being distributed to healthcare workers on December 14 and continue to be given to healthcare workers first.
Many people are wary about taking a vaccine, feeling like it has not been tested enough and was made too quickly. However, CNBC says, "The FDA has indicated it would authorize a vaccine that's safe and at least 50% effective. The flu vaccine, by comparison, generally reduces people's risk of getting influenza by 40% to 60% compared with people who aren't inoculated, according to the Centers for Disease Control and Prevention." 
The New Scientist said that the Pfizer COVID-19 vaccine is "about 95 per cent [effective]. The phase 3 trials of the Pfizer/BioNTech vaccine involved 42,000 people, about half of whom got the experimental vaccine and the rest a placebo. In total, 170 people fell ill with covid-19. Only eight of them were in the vaccine group; 162 had received the placebo. So around 5 per cent of cases were in the vaccine group, which is where the 95 per cent figure comes from. That is a very healthy number: the World Health Organization (WHO) has said it would be happy with 50 per cent." 
The Moderna vaccine, on the other hand, is 94.1% effective, according to the Mayo Clinic. However, that does not necessarily mean one is much better than the other. Helen Branswell from Stat News said, "Each dose of Pfizer's contains 30 micrograms of vaccine. Moderna went with a much larger dose of vaccine, 100 micrograms. It means it is using a little more than three times as much vaccine per person as Pfizer is. And yet, they aren't getting better results."
The CDC stated on their website that, "There will be a limited supply of COVID-19 vaccines in December 2020, but supply will continually increase in the weeks and months that follow.
The goal is for everyone to be able to easily get a COVID-19 vaccination as soon as large quantities are available. The plan is to have several thousand vaccination providers available, including doctors' offices, retail pharmacies, hospitals, and federally qualified health centers."
These locations need to be equipped with the proper equipment and training to administer the vaccines.
Both the Pfizer and Moderna COVID-19 vaccines require two shots. According to the Mayo Clinic, the Pfizer vaccine injections should be taken 28 days apart while the Moderna vaccine should be injected 21 days apart.
In Los Angeles, the distribution plan is separated into three tiers. The first people will be in phase 1A. "Healthcare workers and people living in long-term care facilities (such as nursing homes) will be offered the vaccine first." (LA Public Health Department) Phase 1B includes people aged 16 and older and frontline essential workers. Phase 1C is people aged 65-74, people 16 and up with high-risk health conditions, and other essential workers. Phase 2 is people 16-64 without high-risk health conditions. Distribution may take a while, however, with hopes of the vaccine being "available to the general public in Spring/Summer 2021" (LA County Public Health).
The effect of the vaccine on children, however, has not been thoroughly studied enough so the CDC does not recommend that they take it. The Pfizer vaccine is available for people ages 16 and older, while the Moderna vaccine is available for people ages 18 and older. 
Senior Sophia Martin said, "I don't know a lot about the vaccine yet, but if it is proven safe and effective for me to take, I would definitely get it."
In regards to cost, the CDC states that "Vaccine doses purchased with U.S. taxpayer dollars will be given to the American people at no cost. However, vaccine providers will be able to charge administration fees for giving or administering the shot to someone. Vaccine providers can get this fee reimbursed by the patient's public or private insurance company or, for uninsured patients, by the Health Resources and Services Administration's Provider Relief Fund."  
Former presidents Barack Obama, Bill Clinton, and George Bush stated recently that, once it is approved and safe, they plan to take the vaccine publicly and on camera. Their goal is to hopefully inspire American citizens to take it as well. 
Additionally, according to CNN, "'Former U.S. President Jimmy Carter and his wife, Rosalynn, said today that they are in full support of COVID-19 vaccine efforts and encourage everyone who is eligible to get immunized as soon as it becomes available in their communities,' the Carter Center said in a statement Wednesday on Twitter."
456,000 people have already died from COVID in the US and the number keeps getting bigger, and the need for a vaccine seems increasingly important. However, many are wary of taking it once it comes out to the public. Would you get the vaccine?