The Capitol Riots
Trump Supporters Stormed the Capitol Building on January 6th
On January 6th, 2021, Trump supporters stormed the Capitol building, hoping to overturn the election results, claiming they were fraudulent. These people were not protestors, they are being labeled as domestic terrorists. This attack was not only overwhelmingly scary, but it also highlighted the privilege white people have in America. 
Americans huddled around their TVs and watched as Trump supporters successfully entered the Capitol building, stealing podiums, sitting smugly in Speaker Nancy Pelosi's office, and proudly waving a Confederate flag. How is this possible? The U.S. capitol, being one of the most important buildings in our country surely would have an abundance of security guarding it. Especially considering this protest was planned. However, it quickly became clear how it was so easy for the rioters to enter the building once people saw some images of police taking pictures with rioters, almost welcoming onto the premises. People brought a Confederate flag, a symbol for slavery, into the building. It was a very sad, horrendous, and awful day in American history. January 6th further highlighted America's issues with white supremacy, racism, and white privilege, and we can only hope and try for a better future. 
Trump supporters have tried to compare their riots to the BLM protests over the summer. However, these comparisons fall short for many reasons. In June, Black Lives Matter supporters used their First Amendment rights to peacefully protest for racial justice and an end to police brutality, but Trump supporters in January rioted because of a "rigged" election, claiming Trump won by a landslide, even though those claims proved to be false. The riots in January were an attack on democracy. The unrest that followed Floyd's death included vandalism, arson, and looting, but the vast majority of demonstrations were peaceful. Some of the worst violence was in Portland, where thousands of protesters turned out nightly for weeks. Some hurled fireworks, rocks, ball bearings, and bottles at federal agents and a member of a right-wing extremist group was gunned down by an Antifa supporter. But prominent BLM activists repeatedly distanced themselves from provocateurs and brawlers."
Police strictly guarded the capitol building during the BLM protests, but practically layed out a welcome mat for the Trump supporters. Petula Dvorak at the Washington Post, said, "Imagine if all those people were Black. Oh, wait, we don't need to imagine. When thousands of demonstrators, largely African Americans, came to the nation's capital in the summer to protest the killing of unarmed Black people, D.C. looked like Kandahar under occupation. For a few thrown water bottles, a blaze that was about the size of my high school's homecoming bonfire, and some stores looted by folks who came in cars and appeared to have little to do with the demonstrations for racial justice, the entire city was encircled by armored Humvees, and columns of soldiers were positioned on city streets around the White House, which became a fortress wreathed in several walls all summer long. In one span of four days, D.C. police arrested more than 400 protesters."
In contrast, according to PBS, "Very few rioters who broke into the Capitol were detained or arrested while the break-in was in progress. Most who entered the Capitol building were allowed to leave when they chose to do so. Reportedly, 26 were arrested on Capitol grounds out of the hundreds that stormed the Capitol."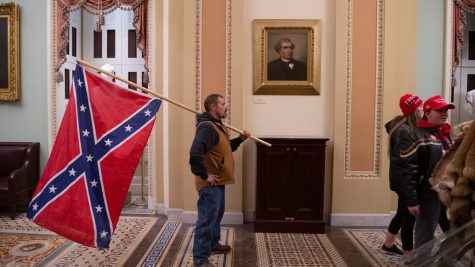 According to Julie Watson at AP News, "The mob at the Capitol was fueled by baseless conspiracies propagated by Trump that the election was stolen from him through massive fraud. The rioters acted on the president's direct urging to "fight like hell." They attacked police with pipes and chemicals and planted bombs. When addressing the rioters Trump said "I know your pain. I know you're hurt. We had an election that was stolen from us. we love you and you are very special" continuing to spread lies about election fraud while praising and showing appreciation for what his supporters were doing. The rhetoric he uses is very clear, and the contrasts in the ways he refers to white vs black people are evident. When addressing the BLM protestors Trump referred to them as "thugs" and "terrorists". How were the riots on January 6th not considered terrorism? Why didn't Trump use the same language that he did over the summer to discuss the Capitol insurrectionists?
Mr. Stark says "I had the conversation with my students before and after the election that, as a government teacher, all the rhetoric of a rigged election made me a little unnerved because that is the kind of stuff you hear in unstable, third-world democracies. Even after all of this, I still have faith in the American system.  As far as the future of democracy, I think we are starting to see some of the long term consequences and challenges that democracies will face with the explosion of social media and the changing media landscape over the last 10-15 years." 
The events that transpired on January 6th will forever be remembered as a very dark day in American history. This was not the American people exercising their 1st amendment rights, it was domestic terrorism and an attack on our democracy.