Love is In the Air
A List of the Romance Books to Keep You Occupied this Valentine's Day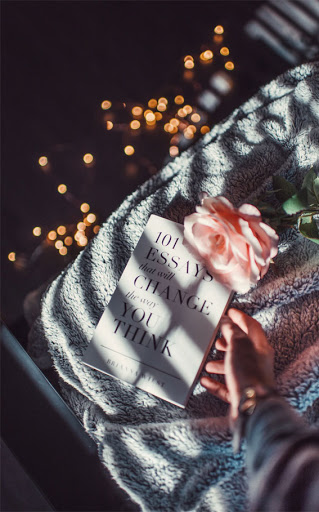 With Valentine's Day quickly approaching, love is fluttering in the air. But, with Cupid's Day looking a bit different this year since restaurants, movie theatres, and theme parks are closed and social distancing is mandated, many of us are looking for ways to make the day special whether it is at home with another person or by ourselves hoping to feel less alone. Part of the perfect way to safely enjoy the day might be to curl up on the couch with a good book, especially a warm and fuzzy romance book. Here are some recommendations that will undoubtedly bring all of the feels and butterflies. 
They Both Die at the End by Adam Silvera: In this dystopian-like society, Mateo and Rufus have been dealt a bad hand and are searching for a way to live. They are given the news that they are both going to die at the end of the day, and the two connect through an app called the Last Friend and agree to have one last epic adventure. The novel touches on the subtle ways we all impact the lives of those around us and reminds us that with life inevitably comes both love and loss. It is a heartbreaking story, but a must-read slow-burn.
Today Tonight Tomorrow by Rachel Lynn Solomon: In this simultaneously adorable and hilarious young adult enemies to lovers, we explore two seniors, Rowan and Neil, who have been academic rivals for the past 4 years of high school and decide to put the differences aside as they team up to win the senior class game that takes them all over Seattle. Their anguish towards one another softens as they learn about each other's secret ambitions, family trauma, and effects of being an overachiever. There is a blatant message to not judge a book by its cover, but more so, it teaches that everyone is complex, whether we think so or not. 
Again Again by E. Lockhart: This philosophical young adult novel implores the infinite ways one can fall in love and the ways humans tend to wish they could get a do-over for life's many situations and complications. Our protagonist, Adelaide, tends to dive into love head first and must face the devastating and wonderful consequences of that. The book dives into what it means to love the idea of someone rather than the person themself and the catastrophic effects of placing someone on a pedestal, while also touching on the burden of loving an addict. 
*Warning: mention of self-harm
Normal People by Sally Rooney: This coming-of-age novel pulls at your heartstrings in every possible way. The story starts off with Marianne, socially awkward and brilliant, and Connell, popular and self-conscious, as two high school students and explores their friendship/relationship over the span of about 5 years throughout college. It delves into the all too real ways everything from depression to domestic abuse affects us and those around us. Have a box of tissues ready for this one!
*Warning: mention of self-harm, suicide, mental health issues, and sexual abuse
99 Days by Katie Cotugno: If you're a fan of juicy and well thought-out love triangles, this book is perfect for you. Molly Barlow comes back to her hometown from her self-exile after a complicated relationship with two brothers, Patrick and Gabe, was exposed to the whole world through a detailed novel her mother published. The novel examines the unjust societal double standards that exist as Molly faces harsh backlash and slut-shaming for her decisions while the guys involved didn't even get a slap on the wrist. Readers see how powerful childhood bonds can be and the importance severing those ties can hold.