Women Empowerment
Celebrating the Right to Vote
From Rosie the Riveter to Alexandria Ocasio Cortez, there have been numerous notable women who have achieved great accomplishments and made many sacrifices through the centuries. This month honors the contributions and sacrifices countless women have made in history. Women's History Month started off as a single day, but celebrations and movements became so popular that people wanted a more formal observance. In February 1980, President Jimmy Carter issued the first Presidential Proclamation declaring the Week of March 8th, 1980 as National Women's History Week. Many communities including schools and universities not only took this time to celebrate the astonishing achievements of women but also to educate people on women's history. Soon after the movement grew across the country, each president has issued an annual proclamation identifying the month of March as "Women's History Month" since 1995. 
In Carter's message designating a Women's History week he said, "From the first settlers who came to our shores, from the first American Indian families who befriended them, men and women have worked together to build this nation. Too often the women were unsung and sometimes their contributions went unnoticed. But the achievements, leadership, courage, strength, and love of the women who built America were as vital as that of the men whose names we know so well."
In 1987, Congress passed Public Law 100-9, designating March as "Women's History Month." And in 1977, the United Nations declared March 8th as International Women's Day.
The theme for this year is "Valiant Women of the Vote: Refusing to Be Silenced." In August of 1920, the US Congress ratified the 19th Amendment, "prohibiting the government from denying the voting rights of citizens strictly based on their gender."
Jennifer Fox '21 said, "Growing up surrounded by strong and powerful women has molded me into the woman I am today. Through them, I've learned the strength, diligence, kindness, and humility it takes to be empowered and live my life authentically."
After the ratification of the 19th Amendment in 1920, suffragists like Alice Paul knew that their work wasn't finished. While the government recognized women's right to vote, many women still faced discrimination. The National Woman's Party drafted the Equal Rights Amendment to guarantee equal rights to everyone regardless of their gender. Despite being ratified by both houses of Congress, it did not get state support. 
In the 1920 Presidential Election, only 36% of eligible women turned out to vote while 68% of men voted. The first women to vote were largely white, wealthy, or living in states that made it easier for women to vote. The low female turnout was due to impediments like literacy tests, long residency requirements, poll taxes, inexperience with voting, and prevailing beliefs that voting was inappropriate for women. 
In a survey about people's feelings about the 19th Amendment from the Pew Research Center, Fifty-seven percent of respondents thought there was still more work to do toward gender equality. About 32 percent thought we'd achieved it; 10 percent thought we'd already gone too far. About 30 percent of men — 40 percent of Republican men; 20 of Democrats — believed that women's advancement had come at the expense of their own.
According to the Washington Post, "For all of the individual laws passed on the heels of women's suffrage, for all of the dollars disbursed and diphtheria cases avoided, the main influence of women's suffrage was philosophical: the idea that a nation made of many different kinds of people, in many different conditions, must expand the franchise in order to govern itself well."
It wasn't until 1980 that fairly equal numbers of men and women cast their ballot. According to the ROPER center, in the 1980 election of Reagan versus Carter, 51% of voters were men, while 49% of voters were women. 
Virginia's right-wing leadership stopped the Equal Rights Amendment from getting support for decades. However, in the 2019 election, female candidates and votes flipped long-held Republican seats, and the Virginia General Assembly held a Democratic majority in both houses of Congress for the first time ever. Virginia became the final state to ratify the Amendment.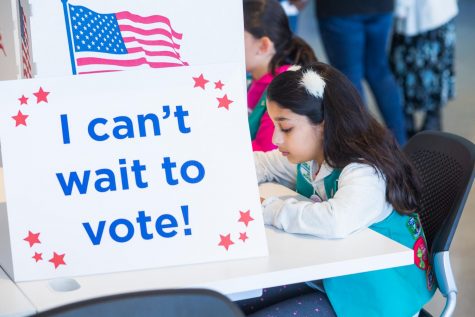 Laws affect women as much as men, and our votes contribute to policies. A women's input is equally important to a man's in constructing a society, as they offer unique perspectives on relevant issues. Women also want their voices heard on matters that directly pertain to them, like equal pay and 
Many ambitious generations of women have paved the way for us today and continue to do so.
Elizabeth Stanton was a leading figure in the early women's rights movement who wrote the Declaration of Sentiments, a document that described women's grievances over being denied basic human rights like suffrage, for the Seneca Falls Convention. 
Stacey Abrams was influential in galvanizing voters for the 2020 election in Georgia. She founded the voting rights advocacy organization Fair Fight Action in 2018 to promote free and fair elections and to get eligible voters registered to vote. She inspired over 800,000 people to vote through her campaigning and was largely responsible for pushing Democrats to the finish line in Georgia. According to exit polls, 92% of Black women in the Peach State voted for Biden. "We changed the trajectory of the nation. Because our combined power shows that progress is not only possible—it is inevitable."
Shirley Chisholm was the first African American woman in Congress and became the first woman to run for the Democratic Party's nomination for President of the United States. She is the founder of the National Political Congress of Black Women, established to address social, economic, educational, and political issues that have an impact on black women.
Kamala Harris is the first female and African American vice president in history. In 2016, she became the second African American woman and the first South Asian American to serve in the United States Senate.
Arielle Stern'21 said, "To me, Women's History Month means not only thinking about the women in my life today, but looking back at women before me who have had to work five times as hard to even have the opportunities that I, and women like me in America, now have. It's incredibly humbling when looking at how drastically the political scene has changed for women or how the media has evolved when discussing and representing women, even in the short time I have been alive. Seeing this evolution and watching history being made right in front of me in real-time assures me that the fight is well worth it. In the future, I hope to do away with double standards that make it more difficult for women to be assertive and powerful in the way men can be with no criticism. As strict binary perceptions of gender change, I hope we can adapt our conversations about women to be more inclusive."
Through marches, protests, and hunger strikes, women throughout all eras have fought so that women today could have a voice and never be silenced. Women expressing themselves should never be considered "whiny" or "oversharing," but as brave and empowering.