Notre Dame Winter Sports Update
Notre Dame has a variety of sports that occur during the winter. But what's been going on with them?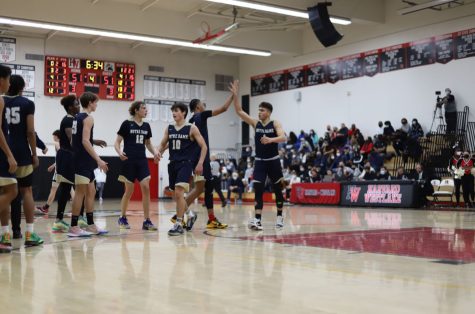 We are three weeks into the second semester, Knights, and our winter sports teams have been busy!
A handful of sports compete during these winter months–women's and men's basketball, women's and men's soccer, and women's water polo.
In women's basketball, our JV team started their season in November with some scrimmages and tournament play. But the new year really fired up the Knights, as they recorded five consecutive wins, giving them an 8-2 record. There are still games on the schedule, but the team plans to end the season with a strong finish.
The women's varsity team started the season strong, dominating their games and recording an amazing 14 game win streak through December 27. Currently, the Knights have an 18-8 record, and are ranked number 7 in CIF Southern Section 2A polls! 
In men's basketball, the freshman team finished their season with a 10-6 record. In their first year at NDHS, the boys worked very hard and it definitely paid off!
The men's JV team finished their season with an impressive 15-7 record. "The JV basketball team this year was an awesome group of young men," said Coach Powers. "The best part about the team is they all developed a burning passion to excel with absolutely no fear of failure, and when you have a group who are all tough and together the way they are it makes it a lot easier to get past whatever adversity is in your way."
The varsity team has definitely shown out this season, racking up an average of 76 points per game. They've played more games than the other two teams, but they have the highest number in the win column, recording 19 wins and 4 losses. They clinched their first Mission League Championship since 2001 with their win against Chaminade! For the first time in program history, they will be competing in the open division. Check out the Notre Dame Basketball Instagram page (@ndhs.hoops) to see scheduling and ticketing updates! 
The team has many star players, each of them racking up points each game. They are also influenced by junior Dustin Stromer and senior Ben Shtolzberg, the pair making up a lot of good plays in each game. 
Christian House '24, has really enjoyed seeing the varsity boys basketball team play this season. "I've enjoyed watching all of the winter sports so far, but the one that I watch the most is the varsity basketball team. I'm a huge basketball fan myself, and I love watching the game that they play. It's very fast paced and always a blast to watch."
The soccer season kicked off in late November for all of the teams. There are 5 soccer teams: V women's, JV women's, freshmen and sophomore women's, V men's and JV men's. 
The FroshSoph Women's team hasn't played many games, due to not many schools having a freshman and sophomore exclusive team.
The JV Women's team has won almost all of the games that they played, dominating two games with an 8-0 score each! The one game they didn't win resulted in a 2-2 tie. What a season for these ladies! 
The varsity team currently holds a record of 13-3-3 after their 1-1 match against Marymount on February 2. Their 5-1-1 record in league play earned them a second place finish in the Sunshine League.
The men's soccer teams had a bit of a rough start this season. The varsity men's team has just won their first game of the season and first win in 5 years against their rival, Harvard Westlake! The team now holds a record of 1-12-3. The Junior varsity's most recent game resulted in a 0-0 tie, giving them a 2-4-4 record. "It's been great playing back this season," said JV member Tyler Crisci '24. "Obviously, there are some restraints with COVID, but getting to go out and play the sport I love with my teammates is always fun." 
As for the women's water polo teams–they have been crushing their opponents! The junior varsity ladies have a record of 14-10, just coming off of a 9 game winning streak. The varsity team completed their regular season on February 1 with an 18-11 victory over Marymount.Their league record earned them a second place finish in the Mission League. The ladies earned a wild card spot and are playing in the first round of CIF Playoffs!
Every year, Notre Dame sports get more and more entertaining! From the athletes that play to the students that watch, the winter sports season is exciting for everyone in the Notre Dame community. Check out each team's schedule on the athletic calendar or ND sports app to see if you can make it out to a game and cheer on our Knights!