Between Scooping Gelato, Interning at an Engineering Firm, or Teaching Kids Gymnastics– Let's See What Students Were Up to This Summer. 
This summer, Jack Farnham, Hannah Smith, Avery Arons, Thea Marsh, Rylie Colbert, and Aria and Arman Najmabadi had jobs, internships, and community service projects that kept them busy.
Although summer break is a time for relaxation, hanging out with friends, or even traveling, ND students still kept up the hard work and stayed busy. Whether it was for a little extra spending money or exploring their interest in a particular field, many got jobs and internships or even just worked on some personal projects. Between scooping gelato, interning at an engineering firm, or teaching kids gymnastics: Let's see what students were up to this summer.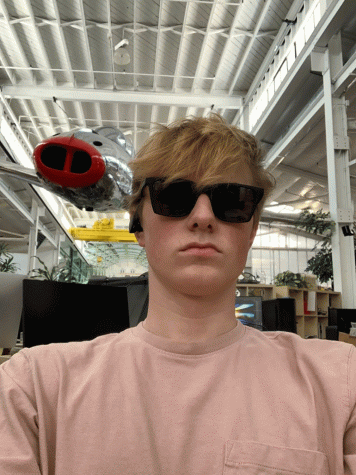 Jack Farnham '23
This summer, Jack Farnham continued his two-year internship with Applied Minds Inc. His work pertained to graphic and user-interface design as well as marketing for an engineering firm. He originally became involved with the company when he was 13, searching for someone to help him develop an app he had designed. 
"I was compelled to take the job because I'm interested in the field of engineering and the creative design process. This job gave me hands-on experience in both," Farnham said. 
During his time with the company, Farnham said that he learned how to take criticism and feedback in a positive light, in order to improve his work. Additionally, he learned a lot about the technology development process. 
"My favorite part was sitting in on the meetings with bigger companies," he said. "Getting to meet these executives and understand their philosophies as far as marketing and products are concerned was very interesting."
Hannah Smith '23
Over the summer, Hannah Smith started a new job at Bacio Di Latte, a gelato shop in the Century City mall. She actually took her brother's position, as he was leaving for college. Her daily routine consists of scooping gelato, making waffle cones, working the register along with closing maintenance and cleaning at the end of her shift. 
"I felt like scooping ice cream or gelato are the perfect jobs for teenagers just starting to work," Smith said. "It definitely feels great to make money on my own so I can become more self-sufficient."
One of her favorite parts of the job is hanging out with her new co-workers. "For the most part, my coworkers are UCLA students or some even have families. It is so fun learning about their lives because they're in totally different stages than I am," she said. 
Smith plans to continue her gelato scooping adventure during the school year, but mentioned that she is going to cut back on her hours until college applications are due. 
Thea Marsh '25
Sophomore Thea Marsh worked with her dad's swim school, teaching kids how to swim. In a typical lesson, Marsh teaches two to three kids for 30 minutes, helping them brush up on their skills.
"Kids were forgetting how to swim and my dad was talking up a lot of time to re-teach them when he could be teaching new kids," Marsh said. 
She also had the unique opportunity of working with clients who have learning disabilities, where she would often do 15-minute one-on-one sessions. Marsh said she loved working with the two to three-year-olds, because they were super excited about getting in the water. 
"I learned some better ways to communicate with kids," she added.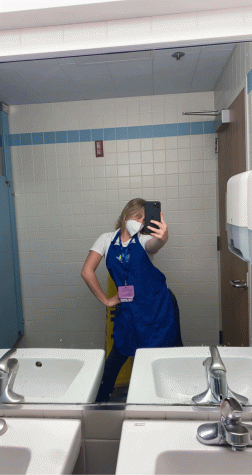 Avery Arons '23
This summer, senior Avery Arons had the unique opportunity to intern at Children's Hospital Los Angeles. During the internship, Arons helped patients, families, and other employees in over 100 different departments. 
"I played with patients in outpatient waiting rooms, escorted patients to hospital appointments, and provided administrative assistance," she said. 
The internship supported her journey into majoring in Public Policy or Non-Profit Leadership, in an area where she recognizes the need for support, such as a hospital. 
Not only did Arons gain valuable, professional experience in the medical field, but also took away some valuable lessons that she says will stick with her throughout her day-to-day life. Particularly, the power of kindness stuck with her after the hospital's 'Christmas in July' event. 
"The volunteers all dressed up in Hawaiian shirts with Santa hats and delivered presents to all inpatient rooms," she described. "Being able to brighten up the children's day and seeing their faces light up as we walked in is a memory I will never forget… I learned that a simple smile and 'hello' to someone can completely change their mood or day."
Before, Arons said that she was never really interested in medical school. However, the internship opened her eyes to this new possibility after she witnessed lives being saved and families being brought back together. 
Rylie Colbert '24
Rylie Colbert is a junior on Notre Dame's varsity cheerleading team who used her talents to teach at TumbleKick, a gymnastics and Taekwondo studio, from April 2022 to the present. She teaches tumbling and gymnastic skills to kids aged 3-13. 
"I took this coaching job because it was a way to get back into the gymnastics world after leaving my gym, and it was a way to gain job experience and extra money with something I already knew how to do," she said. 
Her favorite part of this job is when kids leave having learned a new skill. Although she mentioned how the younger kids are super cute and excited to be there, she loves teaching the older kids because they are better at listening and have motivation to acquire new skills.
"I learned how to be patient and understanding with kids, especially the little ones, but also be firm enough to get things done," Colbert said. 
During her first weeks of working, Colbert described an epic save as a little boy flipped off the bar and almost landed on his head. Her quick reflexes allowed her to quickly catch the boy with one arm, evidently avoiding a major meltdown. She is continuing to work there throughout the school year.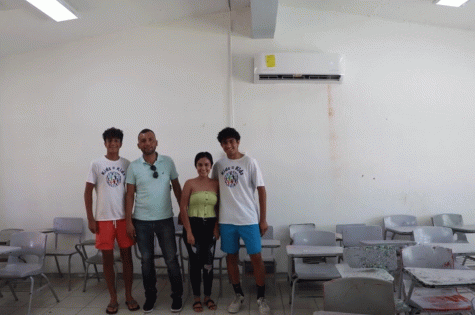 Aria Najmabadi '23 and Arman Najmabadi '24
Over the summer, brothers Aria and Arman continued to work with the non-profit organization, Kids Equal Kids, which they founded in 2020. Kids equals kids seeks to bridge the gap among children of different communities. 
"We hope to pursue our goal of helping children and chipping away at inequalities in communities starting with that of Punta de Mita," Aria Najmabadi said. 
Since they were four and five years old, the brothers have been traveling to Punta de Mita, Mexico, where they would visit orphanages, schools, or play soccer with other kids in town. This summer, their work included collecting donations to cover children's healthcare costs, visiting a local school and helping install air conditioning units to combat heat in the spring and summer months, creating a scholarship to cover uniform expenses, and collecting donations of school supplies for the upcoming school year. 
"In the society that we live in today, there are many inequalities—whether it is in education, socioeconomic status, or access to necessities. Growing up in Los Angeles, we are blessed with many opportunities such as receiving private school education, living in a financially stable household, and having access to quality health care. We'd like to help children across the globe have access to the opportunities that we do," Aria Najmabadi said.
About the Contributor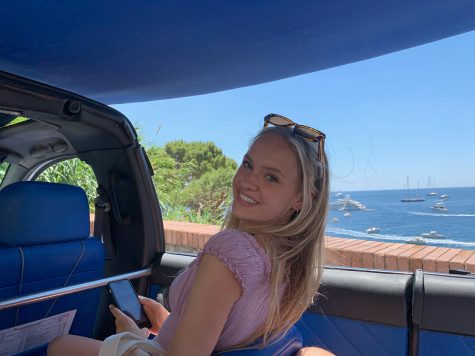 Francesca Smith, Staffer
Frankie Smith '23 is a new staff member of the Knight Magazine and the Knight Online. Before working on the Knight Magazine, Frankie anchored and created...