A Frightfest on Fulton
How one of Notre Dame's neighbors brings the Halloween spirit to Sherman Oaks
Halloween has always been one of my favorite holidays. Between the horror movies, the creative costume parties, and the childhood memories of trick-or-treating, there's a lot that the spooky season has to offer. 
What I've always loved most, however, is the decorations: carved pumpkins on doorsteps, jack-o-lantern smiles watching from windows, skeletons lounging on lawns-turned-graveyards.
Naturally, then, I was delighted when a house on my school commute set out massive animatronics in early October. I've been driving on this street since freshman year, so I've been awed every time with its transformation for the holiday.  
This year, however, I decided I had to learn more.
So I did what any good journalist would do: dropped a letter at the front door and hoped for the best. 
I received an email a few days later, from Jason W. Ellis, a self-described Halloween enthusiast born and raised in Burbank. He's been decorating his house for over twenty years now, but he's been a superfan of the holiday since he was a kid. 
I had the opportunity to have a conversation with him about this annual project and get some more information about how he pulls it all together. Answers have been edited for length and clarity. 
Q: You've been decorating for about two decades now. Have the decorations changed over time? 
A: Yup, it changes all the time. Probably the first ten years or so it was just regular decorations and then it got really big in the last seven years. But I still try to change it up every year, make it different, add stuff, take away stuff. 
Q: How long does it take you to set everything up?
A: I do it all myself, so I start the first week of September. I'd say about 75% of it is done by the first week of October. And then I work on it just about every day right up until Halloween. I have a list of stuff I want to add, and change, until I do the final setup on Halloween day. 
Q: What did you add on Halloween?
A: I had to edit another video for the amphitheater, where I play a bunch of cool music videos or anything related to Halloween. Every year I add stuff to it, so I have about three hours of footage on there that rotates. This year I just added some Stranger Things stuff. I took the "Running Up That Hill" song—there's a heavy metal version—and then I got some new Atmos projections that came out this year: the headless horseman and a reaper. So I mixed them into the music video.
Q: How did the amphitheater get started? 
First I was just doing the Atmos projections—which are like ghosts and things that you put in your window or on a screen. I started with that about six years ago. But once I have my stuff set up, every Saturday in October I put everything out. I sit out there, from dark until almost midnight, before I bring stuff back in. So to keep me entertained, I started putting up those music videos while I was waiting around. I don't really advertise—I just get people that drive by during the day or at night. Most of the people that come are just passing by and find it by accident. Saturdays work as a dress rehearsal and as a way to advertise it. It helps me perfect it by the time Halloween comes.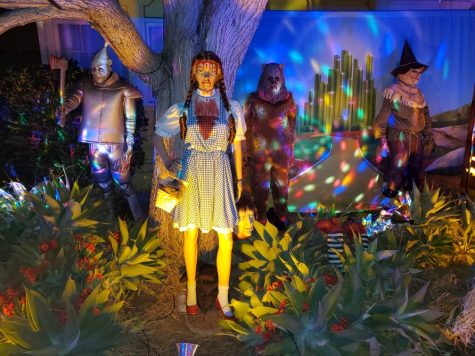 Q: What is Halloween night like? How many people come?
A: On Halloween night we always get over 2000 people. This year, it was a record; we easily had over 3000. It was very busy from the time it got dark up until about ten. It got super packed, just with people who had stumbled upon it. Either they've driven by over the last month, seen it grow, and told their friends about it, or there are people that stop by on one of the Saturdays, who then tell their friends about it. 
Q: What is your favorite part of decorating?
A: Halloween night. Other than that, putting it up is all work. It's all work and it's all money. But on Halloween night, I get a ton of compliments—but I'm not looking for that. I just like watching people's expressions, especially the kids'. When I was a kid, Halloween was a big thing, so I like knowing that kids are getting a real holiday experience. When I grew up, we used to go to Toluca Lake and Burbank because they handed out full-sized candy bars. We'd go to Bob Hope's house and all the other celebrities that lived around that area. The big decorations were in those rich neighborhoods—massive Halloween decorations that they were paying for people to set up. I always thought that was cool and wanted to do something like it. 
Q: How would you describe your setup?
A: I think of it a lot like Disneyland Halloween: meaning it's scary, but it looks like the Main Street Electrical Parade. It's impressive-looking, when it's all lit up. There's plenty of things to see, lots of cool stuff, it's just really impressive-looking when it's all done. 
It was such a great experience to learn more about one of the hidden gems of Halloween in Sherman Oaks. More photos of the setup are available at @myyorkieloverfitness on Instagram. 
I can't wait to see what changes will be implemented to this already amazing setup next year!