Notre Dame's Future College Athletes
All of the athletes from NCAA Signing Day, featuring Ella Parker and all that she has done.
It's that time when seniors write and submit their college applications. Some athletes don't have much work to do now, after working so hard on the sport they play for many years. So what's their next step?
NCAA Signing Day is a day designated for athletes to officially commit to a college for their sport, taking place nationally on November 9, 2022. Many athletes around the country announced the college that they are going to, specifically to play their sport.
This year, Notre Dame had a total of 16 athletes sign to NCAA colleges. These athletes are going to a variety of different schools, from Cornell to UCLA. Julian Correa, an accomplished swimmer, officially signed with Cornell University. He has been ranked as 17th in California for swimming. Cornell is one of the most prestigious ivy league colleges in the nation and is a division one school. 
Esther Yoo has signed with Gonzaga University for golf. She has had 30-1st place finishes in all of the events she has competed in.
Dusty Stromer is another Notre Dame student who is Gonzaga bound. He has been ranked 48th in the country for the Class of 2023 in men's basketball. Gonzaga University is also a division one school and is best known for its basketball program.
Caleb Foster is another basketball player who committed to Duke University. He has been ranked 1st in the state of California.
Bella Avelar signed with Stetson University for beach volleyball. She played indoor volleyball in her junior year and will be playing beach volleyball for Stetson.
Lauren Yoo is another volleyball player who committed to Elmhurst University. Lauren is 5'7 and has a standing reach of 7'3!
Tate Mercer signed with the University of New Orleans for volleyball. The University of New Orleans is a division one school in the NCAA.
Looking at men's volleyball, Notre Dame's Alex Palermo committed to Grand Canyon University. GCU is also a division one school for its sports. 
With women's soccer, Megan Santa Cruz officially signed with Washington State University. Yet another athlete who will be playing at a division one level in college.
In men's lacrosse, Ryan Ostermann signed with Emerson College. He scored 33 goals in the 26 games that were played last season at Notre Dame. 
Notre Dame had five baseball players sign with colleges. Starting with Greg Pierantoni who has signed with Pomona-Pitzer College. He has a .315 batting average and will be playing at the division three college level. Madden Ocko is committed to Fordham University. He has 18 runs and 14 RBIs with a .274 batting average. Oliver Boone is a pitcher for Notre Dame and he has had a total of 38 strikeouts. He is committed to the University of California, Berkeley and will be playing baseball at a division one level. Justin Lee is playing at the University of California, Los Angeles. He too is a pitcher with a 1.000 fielding percentage and a total of 58 strikeouts. Fellow teammate Dean West has also signed with UCLA. Dean is an outfielder with a .957 fielding percentage and 65 runs. Both Justin and Dean will be playing baseball at a division one level at UCLA next year.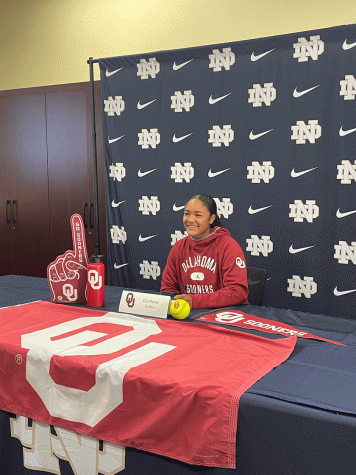 Ella Parker has committed to the University of Oklahoma for softball. Ella has been playing softball for 14 years. She started with t-ball and moved her way up as her love for the sport grew. Ella has been working really hard and making big sacrifices to become a signed athlete for one of the best college softball teams in the country. Oklahoma is ranked first place in the division one women's softball. They have won the Women's College World Series six times, two of them being in 2021 and 2022. During her time playing for Notre Dame's Varsity Softball Team, Ella Parker has scored 97 runs. She has an outstanding batting average of .617 and a fielding percentage of .961. 
As a student athlete, not only does Ella want to play softball in college but she also wants to focus on her education. She explained, "I plan to major in either exercise science or psychology to hopefully look into the career of physical therapy or sports psychiatry. I believe that mental health is becoming more and more prominent in athletes now and it cannot be overlooked, especially with the rise of stress, anxiety and depression." Before moving on from softball in her career, Ella explained, "I'd love to play professionally but my main goal is to play in the Olympics for Team Japan." Oklahoma Sooner Ella Parker has a bright future and there is no doubt that she will succeed in her softball career. 
About the Contributor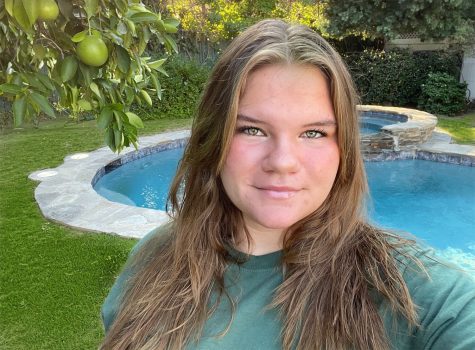 Julia Melville '25, Staffer
Julia Melville is a sophomore, making her a member of the Class of 2025. She is a new staffer of the Knight Magazine and the Knight Online. Julia has a...