Igniting Social Justice
Sophomore Retreat Re–imagined: Learning About Tolerance and Serving Others
What does it mean to be tolerant? It means being able to accept behaviors and beliefs that are different from your own, according to the Cambridge Dictionary. One who is tolerant neither embraces nor rejects someone for their differences, they just leave them be. And that is something that people do not understand. You don't have to embrace or advocate for people's differences, you just have to accept them and treat them equally. According to the Simon Wiesenthal Museum of Tolerance it is "the commitment to respect human dignity."
For the two-day Ignite Sophomore Retreat, students engaged in two different activities. On one day, they visited the Museum of Tolerance and on the other day they performed community service. 
The Museum of Tolerance experience is "a journey of discovery." Focused on the events of the Holocaust and evidence of discrimination pervasive in our world today, the museum provided an impactful learning experience that allowed students to "learn from the past, engage in the present, and assume responsibility for the future."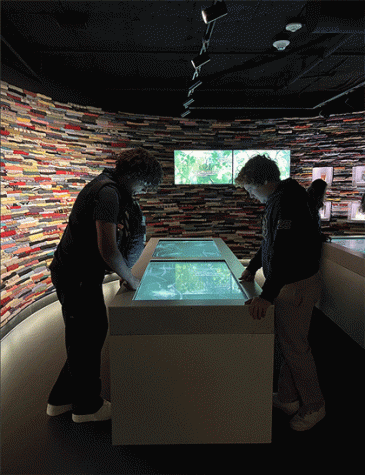 Throughout the tours students learned vivid and personal stories from the Holocaust. The goal was to help students open their eyes and see how much hate is still currently going on in this world, igniting them to become better people. 
As a society, we have become numb to tragedies borne of intolerance and hate. Every week, the news is rife with stories about hate crimes and acts of violence. Our reactions are of sadness and even disgust, but then we carry on with our lives because it has become normal, what we really need to do is take some kind of action. 
The Museum of Tolerance was a very mind-opening experience. Before being showed the past and all of the history, the students watched a video that demonstrated how much anti-antisemitism there still is in the world. The horror of the Holocaust has done little to temper the hate in the world.
Before the tour of the Holocaust Exhibit, each student was given a passport card with a picture and name of a child. They carried the cards as they moved through areas exhibiting the tragedies of the Holocaust. 
At the end of the tour, students inserted their cards into a kiosk which printed out what happened to the child. 
Some were fortunate to learn that their child survived, but most learned their child died because 8 in 10 children who were brought to concentration camps died.
Sophomores saw the horrendous living conditions of the ghettos and the camps, and learned how the Jewish population was treated inhumanely, even walking through a replica of a gas chamber used to put thousands of Jews to death. 
One student said, "I reflected a lot on how grateful I should be for not having to deal with this in my life."
But the tour was not without its moments of hope. Time and again, students saw how the Jews, despite their persecution, continue to hope for a better future.
Sophomores were educated on different forms of hate and social injustice that continue to occur all around us, and were challenged to connect what they learned to their everyday lives. They were asked to find ways to fight against prejudice and hate. They were asked to find ways to make a positive difference in the world.
SERVICE
Service is definitely one way to make a positive difference in the world. 
There were three service opportunities for the sophomores during their retreat. 
Two of these projects involved helping local food banks package boxes to give to families in need. 
At the Los Angeles Regional Food Bank students filled boxes with many different foods that had a long shelf life. The groups of students would also check and separate any damaged cans. 
The assembly lines to make these boxes were very productive. The sophomores packed 5,276 boxes in just two days. Every month, the Los Angeles Regional Food Bank distributes 800,000 boxes.
It is estimated that 1 in 15 people in Los Angeles go to the food bank.
Sophomore Mieko Poindexter said she was saddened to think that, "someone on the retreat, in [her] group, on that bus could be going to that food bank every so often because they just can't afford food." 
The other food bank where students worked was the Children's Hunger Fund, a Christian non-profit organization that resources and empowers local churches in the United States and around the world to meet the needs of their impoverished community members. 
Here the students checked expiration dates of dry foods and helped pack many boxes that would then be sent to different countries to provide food for hungry children.
Students were also taught what different countries had large populations of children who didn't have food.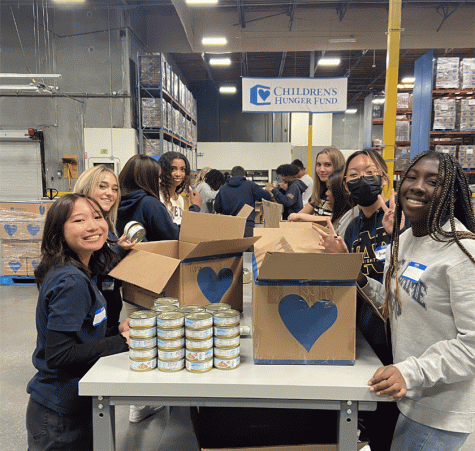 One student said how emotional it was to learn that so many kids who are getting sick from starvation. 
So far, the Children's Hunger Fund has been able to help 300 million children and plans to continue their outreach to help end world hunger. 
The final service opportunity involved helping to clean up our community. 
A group of students were taken to the Sepulveda Basin to work with Volunteers Cleaning Communities to help clean up the area. 
These students were all given trash pickers, gloves, and a bright green vest or visor to help point out that they were doing a service for the people around them on the sidewalk. Cars would honk as they drove by to show their appreciation for the work that students did.
They worked on Victory Boulevard picking up trash on the street and in abandoned homeless encampments.
Sophomore Joseph Knepper said, "It opened our minds to see how much trash and how much of a difference we can make. We were able to see how much trash we can clean up in such a little time. We saw the before and after and it really made a difference."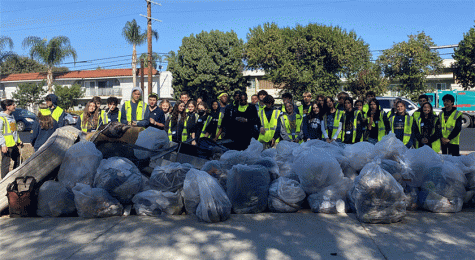 After reflecting with peers, students from the sophomore class would recommend this retreat. 
The experience ignited a spark inspiring them to not only see serious social injustice issues occur all around them.
Recognizing that so many others are not as fortunate and learning how to be tolerant and respectful were the important lessons that students learned on the Ignite Sophomore Retreat, but the most important lesson was that being passive towards social injustice is not an acceptable way to live.
About the Contributor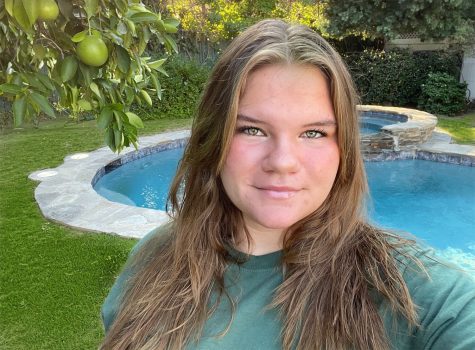 Julia Melville '25, Staffer
Julia Melville is a sophomore, making her a member of the Class of 2025. She is a new staffer of the Knight Magazine and the Knight Online. Julia has a...