Reviewing Key Moments from the 2022 American Music Awards
The 50th American Music Awards show occurred on Sunday, November 20th 2022. The event had incredible performances alongside deserved and upsetting awardings.
Another popular music awards show, the American Music Awards, happened at the beginning of this week on Sunday. This year's event, hosted by Wayne Brady, was the 50th time the AMAs has been held! The star-studded event rewarded this year's best musical performances and works, all voted for by the fans!
The awards show, made to compete with the Grammy Awards, started in 1974 and was created by Dick Clark in 1973. Even though most musical award shows have the same categories in common and follow similar voting formats, the American Music Awards sticks out. Instead of being industry voted, the AMAS are completely voted for by the fans with no interference from music video directors, producers, and record company executives like other shows.
Some of those who took the AMA stage to perform included Dove Cameron, Lil Baby, Bebe Rexha, Carrie Underwood, Imagine Dragons, Anitta, GloRilla (who brought out Cardi B), Charlie Puth, and Stevie Wonder. P!NK opened the show and later performed "Hopelessly Devoted To You" as a tribute to the late actress and singer, Olivia Newton John.
Out of all the music awards shows, the AMAs has to have some of the best and more diverse categories. Of course, the show has the main awards of artist and song of the year like all the other events. However, one thing that the AMAs has that not a lot of other shows do is the K-Pop category! The American Music Awards has created the first K-Pop category in a major U.S. music awards show!
Since the show is all for the fans, it's great on the producers behalf to create that category and acknowledge fans of all kinds of music. In my opinion, the AMAs are one of the best awards shows, especially for how many different types of music it touches on!
As for the nominees for the awards, Bad Bunny had the most nods with eight. He ended up taking home two awards for favorite male Latin artist and favorite Latin album (Un Verano Sin Ti).
Even though the night was magical for many artists, it belonged to the timeless and ever so talented, Taylor Swift. The singer and songwriter won in all six categories for which she was nominated. Swift even won artist of the year, which is considered the night's top honor. Her domination over this year's award show earned her the title of the most decorated artist in AMAs history with 40 career wins.
Lionel Richie was presented with this year's Icon Award, which honors an artist whose body of work has made a profound influence over pop music on a global level. He was honored with a performance of some of his most famous songs by Charlie Puth and life-long friend and musical legend, Stevie Wonder.
Harry Styles, the current it-boy of pop music, was honored with 2 awards. Styles won Favorite Male Pop Artist and Favorite Pop Song for "As It Was," his hit single prior to his album release.
Popular hip-hop and rap artist, Kendrick Lamar, also took home a few awards. Lamar won the awards for Favorite Male Hip Hop Artist and Favorite Hip Hop Album for his latest release, Mr. Morale & The Big Steppers.
Another artist that took home two awards was popular country artist, Morgan Wallen. Wallen was awarded with the Favorite Male Country Artist award and Favorite Country Song award for "Wasted on You."
The talented Beyoncé was rewarded with the Favorite Female R&B Artist Award, as well as Favorite R&B Album for her work "Renaissance."
Most of the awards were well deserved and fans were pleased with the results. However, one award that upset viewers was Favorite Male R&B Artist. Between The Weeknd, Brent Faiyaz, Lucky Daye, and Giveon, Chris Brown took home the award. Fans in the audience were immediately disgruntled, as the other candidates were much more deserving of the award than the notorious Chris Brown.
Many awards were announced before the show, as the show was mainly for the performances. The number of live viewers for this awards show has dwindled a lot over the past 50 years, and that's likely due to those taking the stage. This year, fans of those who were performing weren't as dedicated or passionate as others in previous years.
For example, the American Music Awards show in 2018 had an average viewing of 6.59 million people. We all know how intense Swifites (fans of Taylor Swift) are, and that viewing rate is likely because of her performance. It was her first time singing on an awards show and one of her first in a long time. Even though Swift was in attendance this year, she didn't perform. The ceremony recorded its lowest-ever viewership in the history of the awards, with an audience of 3.3 million.
I don't think that the drop in viewership is something ideal for the event, so something that they could do to get people to watch the show is ask the fans who they want to see perform! If the fans are already voting for the awards, it wouldn't do any harm to ask them who they wanted to see sing. If anything, it would do the airing some good and lift its viewership!
Some performances that were the standouts to me was Dove Cameron, P!NK, and Imagine Dragons with J.I.D. I thought that these all had so much effort put into them and were really enjoyable to watch.
If your favorite artist or one that you often listen to performed at the AMAs this year, give their act a search on YouTube and check it out! Personally, none of my favorite artists took the stage so none of the performances resonated with me much. But if yours did, I would definitely check it out!
 I was lucky enough to attend this year's AMAs, and it was an experience I'll never forget! My favorite musical artist is Taylor Swift, so it meant the absolute world to be able to watch her get rewarded for her great success.
The 2022 and 50th American Music Awards show was unforgettable for the nominated artists and fans everywhere. I'll be voting for my favorite artists and tuned in again next year, and you should be too!
About the Contributor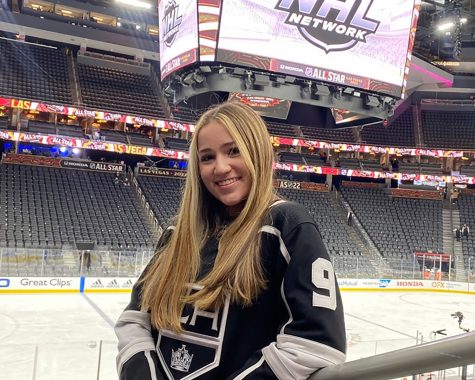 Alexandra Gorgij '24, Senior Editor
Alexandra Gorgij '24 is a Senior Editor of the Knight Magazine and the Knight Online. Alexandra is very passionate about professional ice hockey and everything...