It's in the Stars
What to Get Any Girl in Your Life Based on Their Zodiac Sign
Do you have a Scorpio on your Christmas list? This water sign is known to be very loyal and compassionate. What about an Aries? Along with Leo and Sagatarrius, these fire signs are said to be bold, creative, daring, and ill-tempered (but let's not rub that last trait in their faces).
Whether you are an avid astrology buff or just someone who enjoys reading a daily horoscope for entertainment, it's hard to deny that zodiac signs can tell us a lot about a person.
 Shopping for people during the holidays is hard, especially when they seem to have everything or say they do not need anything. But have you ever tried using their zodiac sign to help with your buying decisions? 
While these gift suggestions inspired by astrology are mostly geared towards women, you  can give them  to anyone special in your life!
Aries- entrepreneur, fearless, easily bored, daring, bold, leader, charming, spontaneous 
To support Aries' entrepreneurial spirit, get them a personal charging hub so they are all set for their next adventure. 
Aries are known to be bold and daring. For those with longer hair, having it down can be annoying and hinder activity. A scrunchie set would be a perfect, stylish solution for this. 
Gift an Aries a karaoke microphone so they can continue bringing the party wherever they go. 
Taurus- homebody, all or nothing, same outfit, loves food and sleep, stubborn, 
If you know a Taurus, you'd know they love to be comfortable and cozy while also a bit fashionable. Gift them a lounge wear set as a perfect happy medium. 
Taurus' are all about self care. A body scrub would make their self-care showers that much better! 
Being an earth sign, Tauruses love to support the environment while also enjoying things they love most such as food. A vegetarian or vegan cookbook will aid in their exploration of all things environmental and foodie related. 
Gemini- charismatic, humorous, multiple interests, quirky, likable, twitter personality 
Geminis often can bring humor to even the most dull places. Gift them a cards against humanity set to help them get the fun started.  
Senior Brianna Baker, a Gemini, is asking for books for Christmas. If you don't know what book a Gemini in your life may want, do not fear! Get them a book subscription from Book of The Month. Its the gift that keeps on giving. 
Gift a gemini a glossier makeup set so they can switch focus to themselves and display their inner beauty. 
Cancer- sensitive, seeks comfort, caretaker, helpful
Gift your Cancer friend a birthday candle for the perfect ambiance for their next comfortable night in.
After being busy helping others, Cancers often leave no time for themselves. A face mask or under eye mask are perfect to prompt a relaxing self care night.   
While letting an under eye mask marinate, a Cancer might need a fuzzy blanket to further facilitate some much needed relaxation.  
Senior Olivia Turner, a Cancer, wants UGG boots this holiday season! 
Leo- creativity, big personality, luxury, wants to stand out, self care
Leo loves to stay classy but on a budget. Get them a nail kit to do their own gel manicures and save on money!
When Leos' look their best, they feel their best. Get them a vanity mirror to make their makeup and skincare endeavors perfect. 
Luxury is a Leo's middle name. They like to take everything to the next level—including loungewear. Pick up an essentials hoodie for the perfect balance of style and comfort.
Virgo- artsy, quick fix, judgemental, millions of ideas, library, welcoming 
To facilitate a Virgo's million ideas, get them a journal so they can keep track and express their creativity. 
Being an earth sign, Virgos always try to make the sustainable choice. A tote bag is the easiest way to reduce waste and show off their style. 
Virgos show their artsy side in not only style, but their space as well. To make their space that much more welcoming, get them a bonsai starter kit—perfect for this earth sign. 
Libra- hates being alone, aesthetic, avoids conflict, indecisive, social, meditative
To combine their aesthetic and meditative aspects, get Libra a sun lamp to make their room as relaxing and beautiful as it can be. 
Libras love to capture their memories in an artsy way. Get them a disposable camera to make their memories last. 
Help your friend show off their Libra pride by getting them a beautiful necklace. 
Scorpio- leather jacket girl, serious, con artist, mysterious, witty 
Scorpios are known for their mysterious nature. Help them dive deeper into their emotions by getting them a We're Not Really Strangers card game.
To show off their tough yet fashionable side, gift them a cropped leather vest. 
Help Scorpios feel and look their best with this charlotte tilbury lip kit.
Senior Avery Aarons, a Scorpio, suggests getting this sign a pair of Apple AirPod Maxes. 
Sagittarius- loud, emotional, friendly, self-improvement, feeds into health fads 
Help Sagittarius dive deeper into their emotions by giving them a 5 minute journal. The journal will help them boost their positive energy and practice gratitude. 
Sagittarius love a good self improvement method. Get them a Sunday Riley skincare kit for their next self care night. 
To facilitate all their adventures, gift a Sagittarius a passport cover. 
Capricorn- responsible, successful, motivated
Capricorns are known for being organized and motivated. A planner is a perfect gift for them to achieve success. 
Every success story comes with a lot of work, leaving no time for other things, Help a Capricorn slow down and take care of themselves with a rose quartz face roller. 
Capricorn Tara O'brien, a senior at Notre Dame, is asking for sunglasses for Christmas. This is a perfect gift for Capricorns as they are always on the go. 
With all of their projects, a Capricorn is constantly on the move. A Yeti tumbler is the perfect gift for someone who is constantly running around or just loves coffee. 
Aquarius- esoteric, conspiracy theorist, outcast, personal freedom, bohemian, hippy  
To go along with their bohemian vibes, get an Aquarius a record player. 
Aquarius are known to love their personal freedom. Get them some roller skates so they can go wherever they would like in style. 
To express their hippy style, get an Aquarius a boho headband. 
Pisces- thinks everything is a sign, romanic, volunteer, poet 
Pisces just love love. Before loving someone else, they have to love themselves. Get them a Fenti lip gloss to make them feel their best. 
Pisces thinks everything is a sign from the universe. Get them a cosmic power book they can explain their ideas to their friends. 
It's the little things that make Pisces feel beautiful. These gold bracelets add a subtle flair to every outfit. 
About the Contributor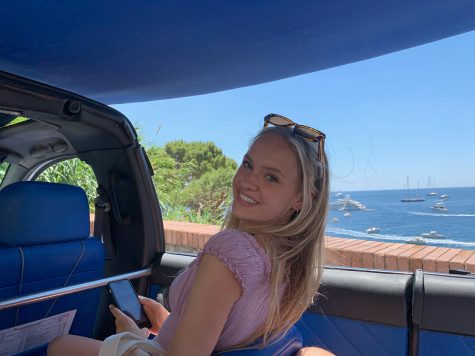 Francesca Smith, Staffer
Frankie Smith '23 is a new staff member of the Knight Magazine and the Knight Online. Before working on the Knight Magazine, Frankie anchored and created...