Whether you like OG Sambas, Jordan 12s, New Balance 990s, Old School Vans, or Suede Pumas, at some point in your life you've probably had to pick out some shoes. But for some, it's more than just browsing. 'Sneakerheads' ' the self-titled know-it-alls of shoes, have created a whole entire community based solely off of…well…soles.  Sneaker collecting stands out as a culture in itself. Often with contradicting views of self-expression and trends, sneakers have melted into popular culture and our everyday lives. 
Catching momentum in the late 70s and early 80s, certain athletic sneakers endorsed by popular athletes boosted the growing community. At the time, the very undeveloped basketball shoe market was mostly made up of Converse and Adidas. In 1986 the infamous rap group Run-D.M.C released "My Adidas", a song about you guessed it…Adidas.  
The budding apparel company Nike wasn't as popular as its competitors but finally broke ground with the still iconic, Air Force 1s. The hype surrounding sneakers began to grow in 1985 when a young basketball player took a deal that would change everything. Michael Jordan signed with Nike and created the Air Jordan 1. At the time, all sneakers had to be  51% white which was mandatory by the NBA. But the iconic Chicago Air Jordan 1 colorway did not qualify. So, Nike paid $5,000 fines each game just so Jordan could wear them. This fueled the popularity and everybody became obsessed. The new silhouette, bold colors, and rebellious spirit caught people's attention. 
Lucky for Nike, the hype never really died down.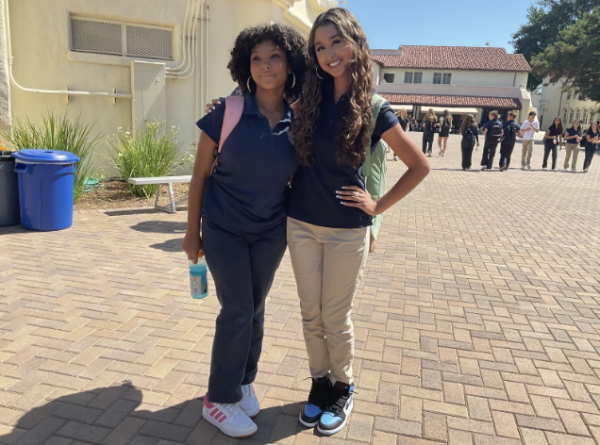 The special thing about the sneaker community is that it weaves sports, collecting, fashion, and trends into one. Every Sneakerhead has a different idea of what it means to be one. Some just look for the brightest colors. Some look for the most popular.  
"I feel like I express myself through my shoes, and especially wearing a school uniform, that's the main way you can show out! And today I was feeling blue!" says Abigail Orellana '26. She sports her University Blue Jordan 1 Highs.
On the other hand, Vincent Purcell '27 says that he prefers practicality. "For me, I look for some comfort in my shoes, and I try to get something that's versatile, you know? That goes with everything." 
In an age where trends come and go, the constant battle between old and new rips holes in the community. For example, the slang term "HypeBeasts" originated from sneaker culture. A HypeBeast is a person who obsesses over the latest trends, especially sneakers and streetwear fashion in order to feel as if they have a higher social status. This toxic mentality is what initially draws a lot of people into sneakers, and the feeling of having something that others only wish to have is a very ego-boosting one. However, for older Sneakerheads, who grew up anticipating the next OG Jordan release, it's not just about being popular. It's the personal and intimate connection they have with the shoe. 
I used to feel embarrassed because I didn't have the most popular Jordans. I liked New Balances too, and it wasn't until my dad showed me pictures of him wearing them in the '90s that I understood that sneakers were so much more than just shoes. Now, I proudly rock my New Balance 2002rs along with my Jordan 11s. I'm learning about the value of self-expression and what style has to do with it. 
DJ Wilmington, a Sneaker YouTuber films videos with his Dad, reviewing and talking about shoes. You can tell how passionate they both are about it and how it connects them. I think this is a great example of what happens when we block out the noise and finally get to the root of why we as a community love sneakers so much. 
Whether you're looking for a quick way to earn some money, accidentally scored on the latest drop, or just simply have some kicks you think might be worth something, reselling in the sneaker community is very common. It usually occurs when a hyped-up shoe releases and gets bought up fast. Then, the select few who got the sneakers put them back on the market and sell them for extreme prices. 
For example, the Travis Scott Air Jordan 1 Low Mocha originally sold for $175 on the Nike SNKR app. Now because of the immense popularity of Travis Scott as a rapper, they currently sell for $849 and up to the thousands according to StockX a reselling platform. 
In the end, the strips of fabric and leather, materials and hardware glued together to create a shoe can be so much more. The sneaker community is constantly changing, evolving, and reinventing itself. But at its core will always be the overwhelming love for self-expression and the people and sneakers that embody it.