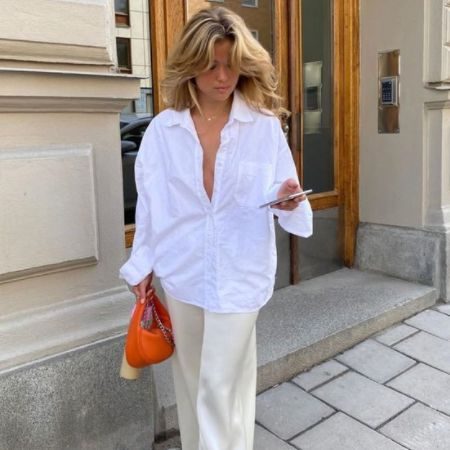 The European Summer trend has been all the rage in the U.S. this past season. But now as we transition into autumn, fashion evolves and we have to look and see how the trends change. If you look closely enough, you'll quickly discover how similar fall and summer trends can be. This is a guide to the new fad, dubbed "Power Dressing," and figuring out how to dress for fall.
To understand the new trends, we have to analyze the old ones. To begin with, there isn't really an exact definition for the "European Summer Trend".
After looking at many different U.S. fashion blogs, here's what I came up with: the overall aesthetic, whether that be clothes, lifestyle, makeup, etc., is romanticizing the idea of being in Europe in the summertime. Think of the movies Mamma Mia!, or Monte Carlo. 
The aesthetic is about making the little things grand and interesting, like enjoying a cappuccino in front of a beautiful beach or walking around town shopping. It boasts a certain chic and glamor that makes it all the more intriguing. Plus, the idea of taking a stroll in the Italian countryside of Tuscany or lying on a beach in the south of France certainly helps with the aesthetic's grandeur.
The origins of European Summer can be traced to a stylist from Houston, Texas named Beverly Mejia, who made it popular on TikTok all the way back in June of 2022. In an article with NYLON called "The Rise of 'Europecore' is Peak American Escapism" by Laura Pitcher on May 24, 2023, she said that these outfits she was putting together were a way of "manifesting a Europe trip" and a form of "giving light to her inner child". 
The key to perfecting this aesthetic is oversized button-ups, linen pants or shorts, maxi or mini dresses, blazers, and dainty footwear. The color palette usually consists of neutrals, with the occasional pop of a bright color. These types of looks were often seen on people like Matilda Djerf and Sofia Richie on platforms like Instagram or TikTok. 
This aesthetic was particularly popular amongst Gen Z and Millennials and was embraced by people of all sizes and ethnicities. People have and will continue to wear this type of fashion until the weather shifts. Americans everywhere flocked to the idea of having a "European Summer" and all the things that came with it. But with summer ending and fall coming shortly, there's a new trend becoming popular: "Power Dressing".
"Power Dressing" is the term coined by the website Brydie, to articulate this new trend. The fad incorporates some of the same principles of the Eurocore trend. The main staples include oversized blazers, leather jackets, lace babydoll shirts, midi skirts, large button-ups, trousers, big sweaters, and trench coats. All clothes are typically in patterns like pinstripe or plaid and in neutral colors like navy, cream, brown, and gray. The color red was also seen often on the runway by designers like "Ferragamo" and "Tory Burch", and the color is expected to be a key fashion factor this year for fall.
This season showcased a far more casual runway look with a certain effortless chic to it that will be a common theme for clothing styling throughout the autumn.
 The NDHS community will be dressing accordingly this fall. Maya Bachsian '27 said, "This fall I will definitely be wearing white Rory Gilmore-type sweaters, gray sweats or leggings, and obviously the Notre Dame uniform!" Another freshman named Madie Tarroza '27 stated, "I'm just focused on wearing comfy and warm clothes for fall this year!".
This type of fashion is accessible to people of all different incomes! While it's common to see this type of style on influencers decked out in designer clothing, you can also find everyday pieces in places like thrift stores.
Where can you shop for the best fall fashion? Stores like Zara, Abercrombie and Fitch, Free People, Kloset Envy, and Brandy Melville are great places to start. You can also find amazing pieces in the thrift store. They have all the pieces necessary to create a great autumn wardrobe. People like Kendall Jenner and Stephanie Bohrer are great people to look at for inspiration when trying to style your new pieces. Now you can be ahead of the game and look your best for fall!