Summer Break? Not For These Two Students..
September Student Spotlight
As the rest of us were scrolling through Tiktok and binge watching shows on Netflix, an inspired sophomore established his very own nonprofit organization. Andrew Lee '23,  created "Giving Hearts United" over his summer vacation. Lee started with phone calls to 30 local fabric stores and apparel companies to accumulate material for homemade masks.
 One shop in particular provided Lee with enough material for more than half of the masks he was able to hand-sew and distribute among frontline healthcare workers for COVID-19. On top of nights he spent sewing away, an apparel company Lee had contacted agreed to donate some of their top of the line, premade masks. Once a little over 600 masks were compiled, it was time to drop off the masks to healthcare superheroes in hospitals like Windsor Gardens Convalescent.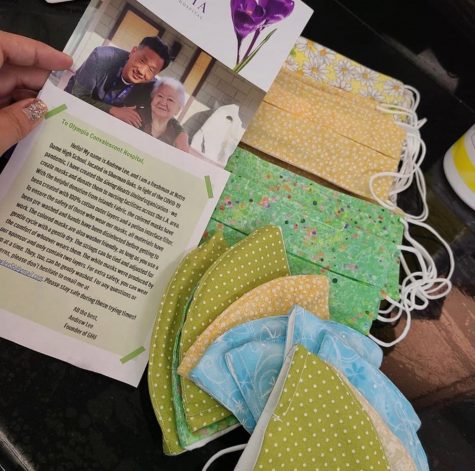 After witnessing how the virus impacted his grandmother, Lee was more than motivated to give back to healthcare workers. The personal experience brought him closer to how much those in the medical field truly do for patients who are in dire need of assistance, both physically and emotionally.
Lee passionately stated, "I think it's important for every human to give back just for the sake of good and not out of expectation to receive something in return." Giving your heart to others is crucial to strengthening a sense of community and togetherness, and upon truly realizing that, Lee titled his work "Giving Heart United."
Masks were only the beginning for the teen organization director. Lee is currently in communication with hospital directors and workers to start a program in his organization to write birthday cards for patients' birthdays. "Some patients feel lonely and neglected on their birthdays as they sit in their hospital beds, so simple cards to celebrate their special day are little parcels of happiness we can provide," he says with a full heart.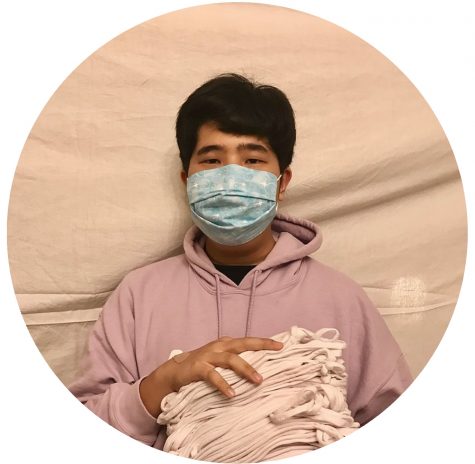 Aware of how blessed he is compared to those in the world around him, Lee has been giving back to those who feel stuck and have less resources, privileges and advantages as we do by sponsoring two brothers in the Philippines through another organization called "Compassion International" since late 2019. Lee hopes to fundraise money for children in need that are part of this program through Giving Hearts United. 
Lee is also in the process of creating a club at our high school that is in alignment with his nonprofit, but until then he encourages the Notre Dame community to visit his site and become a part of the organization so we too can give our hearts to those around us.
Summers for Notre Dame students continue to be productive, even amidst a pandemic.  A student, incredibly driven to do something towards a crisis she has been learning and debating about is none other than Maddie Pira '22. As a member of the debate team, Pira had researched and educated herself about the Yemen Crisis throughout the entirety of her sophomore year and became well-versed of the conditions those in this country face.
Once summer rolled around, her friends had begun talking about an app called "Depop" and how they sold their old clothes using this app. Pira initially thought this would be a fun way to clear out her closet and make some extra bucks over the summer, but as the thought lingered, she realized she didn't need "all that money." She elaborates, "it's something I felt I should do. I'm lucky enough to be in a place of privilege where I don't need to be in constant worry financially."
Acknowledging how fortunate she is, Pira started "Clothes for Change," a fundraiser on her Depop account. Pira even went a step further to sell children's clothing on another site called "Poshmark" to increase the amount of donations.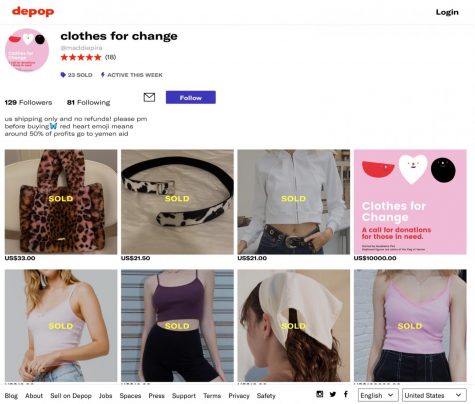 Throughout the duration of summer, she encouraged her family and friends to donate clothes she'd be able to seek and to make purchases for funds she'd be able to donate towards Yemen. She provides a small snippet of information covering the Yemeni civilian hardship, so we too may be aware of what's truly occurring outside our own bubbles and motivated to take action.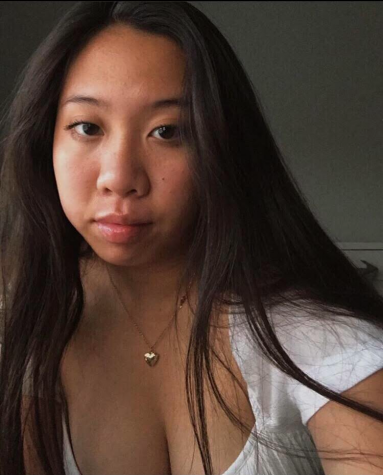 "You can help these innocent civilians whose lives are in constant danger," she writes in her mission statement posted on her instagram and depop account; the small deeds we perform may be more effective than we are able to grasp. Pira encourages us all to find the same empathy and compassion towards the world around us as she did when establishing "Clothes for Change."