Emily in Paris: A Far Exaggeration of French Chic
A Review of Netflix's Latest Romantic Comedy Series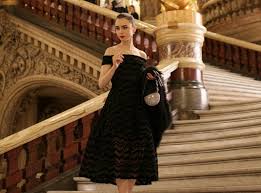 Are you wanting the perfect show to watch while dreaming of devouring macarons and sunning in the French Riviera? Netflix's newest romantic comedy series produced by Sex and the City's Darren Star is the feel-good show of the year. 
Emily (played by Lily Collins) is a bright-eyed marketing executive from Chicago, who unexpectedly lands a job overseeing social media content for a Parisian luxury marketing firm (Savoir) her boss was meant to take. Her unpragmatic expectations of her new life turn out not to be as whimsical as she thought when she is suddenly faced with a less than warm welcome by her new team. 
Emily's Miranda Priestly-esque boss Sylvie (Philippine Leroy-Beaulieu) patronizes her for her lack of French expertise and refuses to listen to Emily's ideas for the company. Meanwhile, Emily's colleagues mock her over-ambition and bubbly personality. However, Emily soons finds companionship among Mindy (Ashley Park), a babysitter from Shanghai and soon starts to grow on Parisians. 
The show's selling point is definitely the glamorous fashion gracing every scene. From the colorful tulle skirts to the gorgeous floral gowns, the show epitomizes French chic. The show pulls style inspiration from the likes of Sex and the City and Gossip Girl. In one scene, to stand out at a beauty influencer event, Emily wears a boxy green multi-pocket blazer from the Chanel Cruise 2020 collection and pairs it with a plaid bucket hat, an accessory Blair Waldorf wore on several occasions. 
Patricia Field, the show's costume designer, also brought in some other ties to her former projects, including Emily's black strapless tutu-skirted gown by Alexandre Vauthier. "Sex and the City fans will recognize the billowing tulle layers as a nod to Carrie Bradshaw's sea-foam green look in the Paris set-finale. Another Easter Egg: Emily wears personalized nameplate earrings (a nod to the CW's Gossip Girl)," says Field. 
Field describes Collins as a "doppelganger of Audrey Hepburn" and turned a delicate tennis necklace from La Compagnie du Costume into a headpiece for Emily to wear during a scene at the opera, resembling Hepburn in "Funny Face." 
Though the show is an easy and fun watch, it is not without its fair share of stereotypes. "The clichés are so many and so concentrated that they pile up like a collection of little stories that become comical in their exaggeration," said Philippe Thureau-Dangin, the owner and director of Exils, a small French book publishing firm.
Viewers see endless depictions of Parisian lifestyle that are not realistic. This includes smoking cigarettes in french offices (which is not permitted), the "bise" (kiss on the cheek) used as an introduction, spacious one-bedroom apartments, handsome young men named Gabriel (Lucas Bravo) who just happens to speak fluent English as neighbors, and money to frivolously spend on luxury purses and expensive brunches. The show also exaggerates the city's beauty and creates an idealized reality with cinematography portraying polished streets and vibrant parks. 
There is a scene that shows a perfume advertising shoot where a blonde model struts across the Alexander III bridge nude, and Emily calls the director out for its blatant sexism. Florence Coupry, an executive in a top French strategic communications firm says, "This has nothing to do with being French. A campaign like this would backfire."
Lucas Bravo said, "We're portraying cliches, and we're portraying one single version of Paris."
Despite the cliches, we do see an important portrayal of how women are discarded in the workplace and often treated with barely concealed contempt, as Emily has to work hard to earn her colleagues respect. Additionally, we see a refreshing take on the toxicity of cancel culture in the season finale ("Cancel Couture"). A popular French designer receives backlash in the media for an embarrassing hit one of his dresses took at a gala and fights back by creating a line of self-deprecating dresses for fashion week with the models sporting them getting off a big dump truck. 
Starr describes the show as a "love letter to Paris," and it truly is just that, showcasing the type of glory and glitz that Americans fantasize about experiencing. Emily in Paris is escapism from reality and the perfect binge-able show for anyone stuck in a COVID rut.