Dash and Lily: Holiday Escapism
A Review of Netflix's Latest Romantic Comedy Series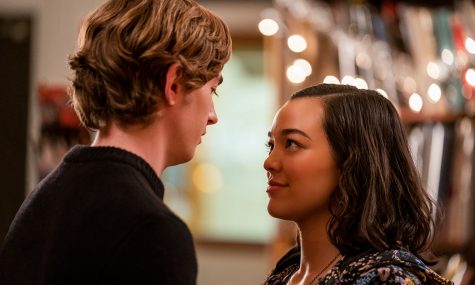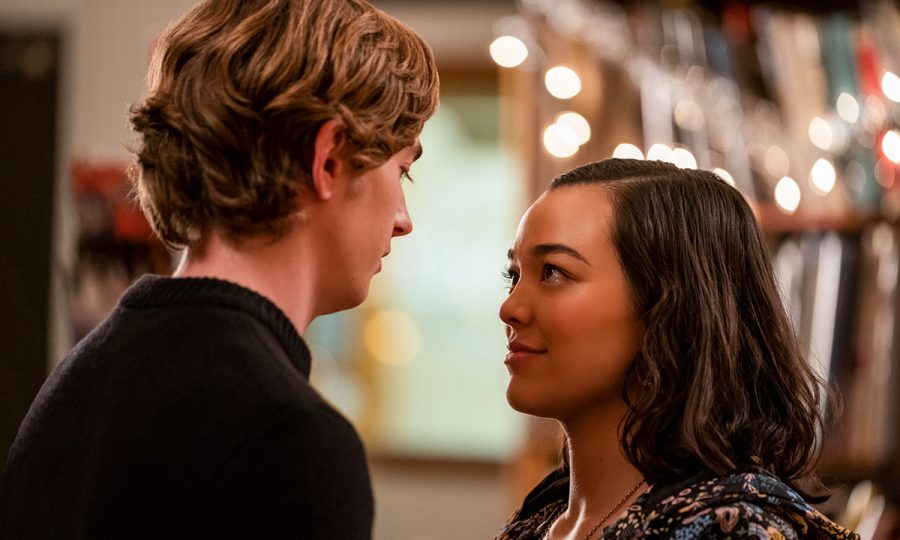 Picture this. You are in a cozy, old bookstore sitting by a toasty fire sipping a delicious cup of hot chocolate when a mysterious, gorgeous stranger walks in hoping to whisk you away on an adventure. Netflix's newest romantic comedy series "Dash and Lily," based on Rachel Cohn and David Levithan's YA novel "Dash & Lily's Book of Dares"and produced by Nick Jonas, will satisfy every romantic fantasy craving that you read about in books and dream of experiencing yourself. 
Cynical Dash (Austin Abrams) is stuck in New York City with his estranged father for the holidays, drowning in his own pity and hate, with only his loyal best friend Boomer (Diego Guevara) to keep him company. Buoyant Lily (Midori Francis), who is stuck in her own bubble with no friends her own age, loves the holidays usually, but her family is not around this year to celebrate with her. Her brother Langston (Troy Iwata) has fallen in love and pushes her to get out of her comfort zone. He creates a scavenger hunt with a red notebook with the words "do you dare?" scrawled across the top for Lily to fill with dares for a mystery boy to complete, which she hides in a shelf in the Strand bookstore. 
Dash, a book nerd, is immediately intrigued by this enigma and the girl behind the clues. Lily is impressed by the diligence of the boy, but struggles to pursue things further when she finds out he hates Christmas-from the cheer frenzied carolers to the sparkly tinsel wrapped around trees. The two swap personal stories, wishes, and dares with each other in the notebook they pass back and forth at various locations around New York City, each pushing the other to do something different and look at the world differently, too.
The show pulls back both Dash and Lily's layers. Viewers see Dash's stoic, oil-meets-water relationship with his father, a wealthy businessman with a long history of weekly girlfriends and doesn't understand Dash or his passions. Lily, on the other hand, has loving parents but an overprotective grandfather who refuses to let her blossom and become her own person. Dash and Lily are able to overcome their problems through each other's advice. They encourage each other to do the things they are most afraid or intimidated by from dancing like nobody's watching in the middle of the dance floor at a Jewish punk concert to to reciting Joni Mitchell's song "River" in front of a crowd of strangers. 
The show is a revelation that forces viewers to think about all the ways racism, sexism, and insecurities can leave aching dents in our lives from adolescence. It dives into Lily's jarring  journey as a biracial, Japanese-American girl. When Lily stands up to their childhood bully at a slam poetry night, one woman in the crowd screams, "Maybe he liked you." Lily justifyingly irritated takes a page from the romantic comedy "He's Just Not That Into You" and responds, "No! I'm tired of boys pulling our pigtails and getting called cute. I wish I could have stood up to all the bullies who made me feel too weird, too different, too Asian."
Dash and Lily both combat their family's unrealistic expectations of them and who they are supposed to be. Both nonconformists, they teach each other and themselves that it is okay to live life and be teenagers. Dash writes Lily, "You told me when it rains, you always look for the rainbow. But sometimes a rainbow doesn't show. So what do you do? You stand in the rain and scream." Perfectionist Lily learns that she does not need to have a Ph.D. in optimism 24/7 and accepts her flaws as part of who she is and teaches her grandfather to accept them too. Fanfiction and Hallmark movies have created fictitious characters teenagers set themselves on loving in real life one day, and Dash and Lily come to see that true love is about genuinely accepting the other person's imperfections along with their admirable qualities. Though both are outsiders and underdogs, jaded Dash is far different from sparkly Lily, and the two realize that differences are part of relationships.
Francis said, "You're making a painting and every day is a different stroke and they're not all gonna be beautiful and they're not all gonna make sense, but we're playing human beings and they're messy and they're complicated and they make mistakes, so it's all good."
Sofia Gomez '21 said, "I loved this show so much! It was an easy watch and got me into the holiday mood."
The series is a joyful holiday escapism that captures New York's whimsical beauty around Christmas time. Step into winter wonderland meets Candyland meets "Paper Towns" because "Dash and Lily" is the warm blanketed hug everyone needs right now.