Election Day in a Nutshell
Everything you need to know about the 2020 Presidential election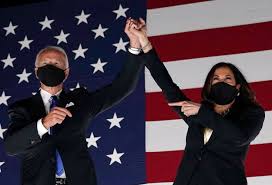 After five exhausting days of non-stop news consumption and constant refreshing, the 2020 presidential election was finally called. On November 17, 2020 presidential candidate Joe Biden was announced the next presidential elect. The reason this election was more chaotic and confusing than most was due to how close the race was as well as the unusual circumstances of undergoing an election while dealing with a pandemic.  
First, let's talk about how the election process works.  Every eligible voter was sent a ballot by mail so they can vote early by mailing in their vote or place them in ballot boxes. An absentee ballot permits voters to vote remotely instead of going to the polling place. In two-thirds of the states, any qualified voter may vote absentee without offering an excuse, and in one-third of the states, an excuse of why they cannot vote in person is required. Voters also had the option to vote in person at polls on the actual election day. Election day, which is the Tuesday after the first Monday in November, is the last day to vote, and the day each vote is counted to decide the next president. The winner of the popular vote is decided by the number of votes for each candidate. However, the winner of the election is the first to get to 270 electoral votes. Each state has a different number of electoral votes, which are based on population, and if a candidate wins that state, they get their electoral votes.  
On the first night of the election, Democrat Joe Biden won: California, New Mexico, Oregon, Washington, Colorado, Minnesota, Hawaii, New York, Maine, Connecticut, New Jersey, New Hampshire, Massachusetts, Rhode Island, Vermont,  D.C., Maryland, Illinois, and Delaware. Trump won: Idaho, Montana, Utah, Wyoming, Kansas, Iowa, Oklahoma, Missouri, Alabama, North Dakota, South Dakota, Nebraska, Arkansas, Louisiana, Tennessee, Indiana, Ohio, Mississippi, South Carolina, Kentucky, and West Virginia. 
At first, Texas and Florida seemed to be going in Joe Biden's favor but they eventually turned red giving Republican Donald Trump their electoral votes. This was a big deal due to the high number of electoral votes these states have. 
Now, let's talk about the other swing states. North Carolina, Pennsylvania, Georgia, Wisconsin, Michigan, Nevada, and Arizona. Whoever won these states, would ultimately decide the next president. After the first night of counting ballots, these battleground states still did not have a clear winner, but the morning after the election, Michigan and Wisconsin were clear blue winners. Pennsylvania and Georgia were originally learning towards President Trump, but as mail-in ballots began to be counted, votes for Biden closed the gap. Soon enough, on November 17, the two states were declared a win for former vice president Joe Biden. 
What took Nevada, Pennsylvania, and Georgia so long to count their ballots? According to ABC7, the sheer volume of votes in Nevada was something they had never seen before. There are also many stages votes have to go through for verification in order to prevent voter fraud. In addition, the mail-in ballots arrived at the counting stations later than the in-person votes which caused some delay in the process. 
As of November 13th, Joe Biden had received 77,554,196 votes in total while Donald Trump earned 72,342,444 making Biden the winner of the popular vote. Joe Biden also has surpassed the 270 electoral votes needed to win the election. More people voted in this election than ever before and Biden received more votes than any other candidate in U.S. history, making this election very monumental. According to The Guardian, there was an increase of 10% in youth voter turnout, with high engagement in 11 key states. 61% of people ages 18-29 had support for Biden and many believe that the huge increase in young voter turnout is what ultimately helped him become the president-elect. 
In an article from The Guardian entitled "Surge in youth voter turnout may have helped propel Biden to victory", Alondra Alvarez, a 20-year-old voter, said "This election feels so much bigger than anything before it. I remember how I felt in 2016 when Trump was elected. It wasn't good- but it also wasn't my fault." Those who were not happy with the outcome of the 2016 election, due to them not voting or not being of age, felt it was their duty to correct the past. 
Layla Johnson '22 says "I was actually happily surprised with the results of the election, I was afraid it was going to be a repeat of what occurred in the 2016 election." 
However, this process is not over yet. The electoral college will meet in December to discuss and this is where the next president is officially decided. President Trump has been refusing to acknowledge his defeat expressing in a tweet that "we won this election by a lot". "We" refers to the Trump administration and supporters. President Trump has also stated that voter fraud played into Biden's victory. According to Time Magazine, "the Trump campaign blitzed state and federal courts with roughly a dozen new lawsuits, most attempting to halt the vote-counting process or disqualify tranches of ballots." Most of these lawsuits are in states such as Pennsylvania, Nevada, and Georgia where the vote count was extremely close. However, it is unlikely that these lawsuits will actually go somewhere. A reporter for the New York Times states "Election officials in dozens of states representing both political parties said that there was no evidence that fraud or other irregularities played a role in the outcome of the presidential race." Overall, this year's election was one that will go down in history.