Does this Reflect America?
President Joe Biden Faces Criticism with his Cabinet Member Choices
As President-Elect Joe Biden prepares for his inauguration, he has begun choosing his Cabinet members for his presidency, which has drawn much criticism from both parties. Biden's Cabinet picks are important for a multitude of reasons, but many are focused on the goals of combating the pandemic and systemic racism in the country, two things many believe the Trump Administration failed to do. Additionally, the U.S. is currently very polarized, both between the parties and within the Democratic party itself.
Biden claimed, in an interview with CNN, that he will "'keep [his] commitment that the administration, both in the White House and outside in the Cabinet, is going to look like the country'" and that this will be "'the most diverse Cabinet anyone in American history has ever announced.'"
While he has chosen people of different racial and ethnic backgrounds, and a communications team composed entirely of women, his choices have also faced criticism from progressives in the Democratic party. They feel they are being underrepresented in his Cabinet. Many progressives and younger voters who settled for Biden yet campaigned for him were a big reason for his win. 
"According to a new poll from Data for Progress […] a majority of likely voters think Senate Democrats should oppose potential Cabinet nominees who are fossil fuel executives, Wall Street executives, or executives who have exploited low-wage labor" (Vox).
Augie Fojitik '21 said, "Four words I would associate with Joe Biden's cabinet are: establishment, elitist, corporatist, corrupt."
Alexandria Ocasio Cortez, an influential progressive member of Congress, "said she understands why the Biden team has been cautious in some of their picks so far — because GOP control of the Senate makes the confirmation process more difficult — but she urged the Biden team to adopt a more aggressive strategy if Democrats sweep the Georgia Senate runoff" (CNN).
According to NPR, Ocasio-Cortez tweeted about how "it was shameful that former Chicago Mayor Rahm Emanuel, a former Obama chief of staff and congressman, was reportedly on the short list for a Cabinet position. Emanuel has been much criticized for his handling of a police shooting of a teenager while serving as mayor." 
In response to these concerns about progressive nominees, Vice President-Elect Kamala Harris, in an interview with CNN, said "We're not done yet […] we're not even halfway there."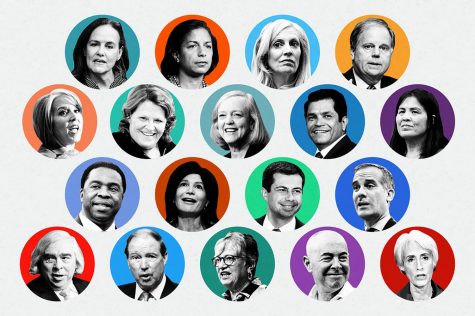 Additionally, many are saying Biden's Cabinet, despite his claims, is not holding up to his commitment to diversity.
Civil rights groups call for Biden to elect more black and Latino people into his Cabinet. Black votes, specifically black women and Stacey Abrahms, were a major reason for his win in the South Carolina primaries and in Georgia in November.
Also, "Latinos helped the former vice president win in states like Arizona and Nevada — but Trump's surprising strength within that demographic group, according to exit polls, demonstrated that Biden has a great deal of work to do if he wants to show he can represent their interests in his administration, and nominating prominent Latinos and Latinas to key positions will be one part of that" (CNN).
According to CNN, "the Congressional Hispanic Caucus ramped up the pressure by airing their frustrations about Biden team's handling of discussions with New Mexico Gov. Michelle Lujan Grisham, who they want to see as his nominee for health and human services secretary, and put forward specific names they want for attorney general." However, Biden ultimately chose Xavier Becerra, Latino attorney general of California, as his HHS secretary. 
Additionally, many Asian-Americans are also disappointed with Biden's nominations. According to a Washington Post article by Amy B Wang, "More than 100 members of Congress are making a final push for President-elect Joe Biden to choose an Asian American or Pacific Islander Cabinet secretary, saying that not doing so would be an unacceptable omission after each of the last four administrations included at least one. 'Although you promised to build the most diverse Cabinet in history, AAPIs have so far been excluded from the 15 Cabinet Secretary slots that oversee executive departments and are responsible for shaping and implementing your Administration's policies,' the lawmakers stated in a joint letter sent to the transition[…] A similar letter sent the previous week had been co-signed by the Congressional Hispanic Caucus and the Congressional Black Caucus."
Along with diversity regarding many racial and ethnic backgrounds, Americans want Joe Biden to choose people in the LGBTQ+ community, and Biden nominated Pete Buttigieg, who is gay, as Transportation Secretary. Buttigieg ran for president in the 2020 elections as a Democrat.
Overall, many are apprehensive yet hopeful as Biden continues to choose his Cabinet members and begins his term as president. The U.S. could likely see one of the most diverse Cabinets in American History, in regards to gender, ethnicity, and race. The bar is high for President-Elect Joe Biden, and Americans are ready to see how he handles these issues during his next four years.
If you want to see a list of who has been nominated for his Cabinet so far, visit the link below.
https://www.axios.com/biden-cabinet-tracker-a1e57167-9a79-4922-8723-6bb93ddee971.html