Halle Bailey Calling All of Us to be Part of Her World
Disney's Live Action Little Mermaid Star, Halle Bailey, dismisses the hate and controversy surrounding the film with grace.
A story fueled by the longing and passion to belong has created a whirlwind of online controversy that is encouraging the opposite of inclusion. The controversy surrounding Halle Bailey, a Black singer and actress, starring as Ariel in the new live action The Little Mermaid has layered arguments prefaced or followed by the lines "But I'm not racist."
Although some who have expressed disappointment that the casting of the beloved character does not follow the animated image do not intend to impose malice, the impact of how some choose to phrase and express their disappointed opinions further perpetuates discriminatory and racist views that deny POC opportunity and achievement within the industry. 
The #NotMyAriel began circulating in 2019 after Disney announced Bailey's casting as the beloved little mermaid, but recently resurfaced as the teaser trailer for the movie came out in September 2022. The amount of backlash not only increased the second time around as more people joined the argument, but became more aggressive. 
The argument behind those boycotting Disney's casting choice with their 4 year old discriminatory hashtag is that in the animated version of The Little Mermaid, Ariel is a white redhead. Danish author Hans Christian Andersen is speculated to have set his 1837 tale within either Denmark or Italy, which assumes Ariel is white. It is a European tale, so she is white. Her dad, Poseidon is a Greek God, so Ariel is white. 
TikTok comments and Twitter threads run rampant with comments and tweets arguing if people of color wanted a mermaid of a different race or ethnicity, an entirely new character with an entirely different plot should have been made instead of "taking away" the established character's ethnicity as a white redheaded mermaid. 
Shock and resistance change is normal, noted Ethnic Studies and U.S. History Teacher, Mrs. McKenzie. "There is always going to be resistance. People have in their mind what something should look like, and historically, every character has looked like the dominant culture. The dominant culture does not always accept it when this starts to change. So there is going to be resistance. Resistance will only be eliminated when bias, racism and the other 'isms' are also eliminated. I try not to let myself get too shaken about it because I know resistance just comes with change."
People are allowed to be disappointed if the live action promos and the movie itself  doesn't exactly mirror what they had in mind, but the line of thinking that brews anger and malice onto the Black community is completely unacceptable. 
"When you're accustomed to privilege, equality can feel like oppression." 
The apprehension to not only share the stage, but to diversify it may be uncomfortable to the masses who are used to any and all stories spotlighting a white lead, but this discomfort of the audience does not compare to the constant refusal Black and POC communities alike continue to face.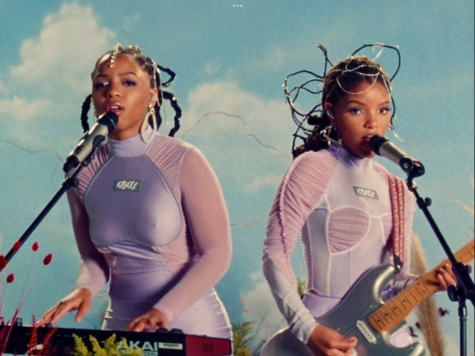 Halle Bailey wasn't cast so that Disney could "play" an inclusion or diversity card like a lot of those who are opposed to the casting choice choose to believe. Bailey's talent is not new to the public's eye. She is half of a sister music duo called "Chloe x Halle" that landed her the gig of Beyoncé's protéger under Parkwood Entertainment management company. 
On a 2019 Grammy telecast, the Director of The Little Mermaid live action, Rob Marshall, was entirely captivated by Halle's performance of "Where Is the Love?" Absolutely moved by the power and grace her voice carried, Marshall contacted Halle to audition for the The Little Mermaid in hopes she could act as well as she could sing. 
To much of his (and the world's!) delight, Bailey was a natural in capturing Ariel's passion, heart and perseverance in her acting, Marshall noted to VARIETY. "It was like watching a great film actor being born."
Bailey really resonated with Ariel's journey as a young girl with this fierce passion to find that place where she felt she belonged. Curiosity fuels Ariel to become determined and persistent in achieving these big dreams to be part of the human world as a fish, similarly to Bailey's journey as a Black performer trying to pave her way into a close-minded, predominantly white Entertainment industry. 
From one ambitious woman, or mermaid, to another, both end up successfully achieving their big dreams after resistance, discouragement, and adversity. Ariel gets her voice back and crowns herself royalty in the human world, too,  granting her the best of both worlds.
As for Bailey, she's able to pave the way for other actors and actresses to not give up hope of landing their dream roles. Her role as Ariel serves as a reminder for performers of color that there is a place for them and their talent in the spotlight. 
But it's even further than that, as having Ariel portrayed as Black on screen is an incredible win for the Black communities. Now, little brown and black girls alike get to be fascinated and excited by the magic of a Disney princess that looks just like them.
Halle Bailey has worked tirelessly to formulate her music and acting career, and is very deserving as her role of a Disney princess. To reduce her accomplishments and hard work as a sole excuse for diversity or to diminish them entirely because Ariel doesn't align with how you had pictured her is not only incredibly ignorant, but is a disservice to yourself.
Opportunities have already been denied to Black community, so when a person of color is able to work hard enough to access one of these opportunities, it is meant to be celebrated. 
Rather than viewing the change in race as something being taken away, it should be viewed as something that is being given to the little Black and brown girls whose communities have been refused to be seen, heard and celebrated. Opinions that stem from and continue to perpetuate racism have no place to be part of our world, not on land and certainly not under the sea. 
To continue to and celebrate Bailey and Black excellence, watch/and or stream The Little Mermaid on May 26, 2023!