New Supreme Court Justice Amy Barrett
Take a look into Barrett's major policies and her work before her nomination as Supreme Court Justice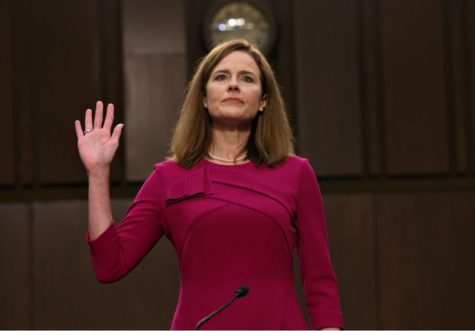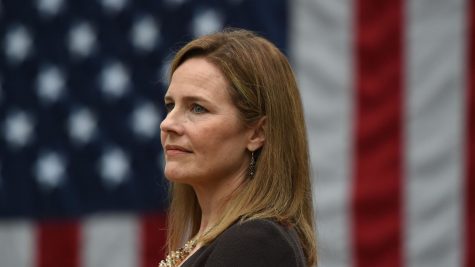 Amy Barrett, born on January 28th, 1972, in New Orleans, Louisiana, was nominated for Supreme Court by President Trump. Barrett was nominated to replace deceased Justice Ruth Bader Ginsberg. At 48 years old, she would be the youngest justice on the Supreme Court, possibly leaving her mark on numerous cases for many years.
President Donald Trump stated, "She's very highly respected, I can say that."
In 1944, Barrett graduated magna cum laude from Rhodes College, a liberal arts college in Tennessee. At Rhodes, she was a member of Phi Beta Kappa and was also recognized as the most outstanding English major and for having the best senior thesis. After graduating from Rhodes, Barrett went to law school at Notre Dame with a full-tuition scholarship. In 1977, she graduated summa cum laude, received awards for having the best exams in 10 of her courses, served as executive editor of the school's law review, and received the Hoynes Prize, the school's highest honor, as the top student in her class.
Trump nominated Barrett to the Seventh Circuit on May 8th, 2017. And she spent three years on the bench for the United States Court of Appeals for the Seventh Circuit. Known to be a devout Catholic, she has much support from religious conservatives. 
Married to Jesse Barrett, a former assistant United States Attorney in the Northern District of Indiana, she has seven children, two in which they have adopted from Haiti.
Peyton Jacks' 21 said, "I am not in favor of a lot of her policies but I have faith and hope that she will fulfill the duties necessary to keep a strong and fair Supreme Court." 
Her views regarding abortion:
"Judge Barrett has considered three laws restricting abortions from her home state, Indiana. In all three cases, she expressed her doubts about earlier rulings from appeals judges that had struck down the laws" (nytimes.com).
How will Amy Coney Barrett's nomination affect women? 
According to the Guardian.com, many people fear that Amy Coney Barrett's nomination will lead to her undoing most of the progress that RBG has made for women throughout her years. 

Barrett's confirmation also poses a threat to Roe v Wade, a 1973 supreme court ruling that made abortion legal. 

Rachel Sussman, the vice president of state policy and advocacy at the Planned Parenthood Action Fund states that "This vacancy represents a pivotal voice and moment in time where many of the freedoms that we have held dear really hang in the balance." 

The Planned Parenthood Action Fund anticipates that if Roe v Wade is overturned then an estimated 25 million women 'could lose access to safe, legal abortion." 

This is especially scary for women of color and the poor since they can't easily travel to get an abortion, and also risk getting fired due to their pregnancy. 
Her views regarding health care:
"In

a 2017 law review article

written before she joined the appeals court, Judge Barrett was critical of Chief Justice Roberts's 2012 opinion sustaining a central provision of the health care law. "Chief Justice Roberts pushed the Affordable Care Act beyond its plausible meaning to save the statute," she wrote" (nytimes.com). 
Her views regarding gun rights:
According to nytimes.com, "In

a 2019 dissent

, Judge Barrett said she would have limited the sweep of a federal law forbidding people with felony convictions from owning guns. She drew on originalism, a legal theory championed by Justice Scalia that seeks to interpret the Constitution as it was originally understood.

But she appeared to have gone further than her former mentor, the author of

the 2008 majority opinion in District of Columbia v. Heller

, which established an individual right to own guns for self-defense in the home. "Nothing in our opinion,"

Justice Scalia wrote

, "should be taken to cast doubt on longstanding prohibitions on the possession of firearms by felons." In her dissent, Judge Barrett wrote that the law forbidding people with felony convictions from owning guns should not apply when the crimes at issue were nonviolent. "History does not support the proposition that felons lose their Second Amendment rights solely because of their status as felons," she wrote. "But it does support the proposition that the state can take the right to bear arms away from a category of people that it deems dangerous."
Her views regarding discrimination:
According to nytimes.com, "Writing for a unanimous three-judge panel last year, Judge Barrett

revived a lawsuit

from a student who had been suspended by Purdue University after a school discipline program found that he had committed sexual violence. "Purdue's process," she wrote, "fell short of what even a high school must provide to a student facing a days-long suspension." 

In a lengthy dissent in June, she said she would have overturned a trial court ruling blocking the Trump administration's efforts to tighten the "public charge" rule, which allows officials to deny permanent legal status, also known as a green card, to immigrants who are likely to need public assistance.

"Litigation is not the vehicle for resolving policy disputes," she wrote."
Here is what we learned following the four days of Amy Coney Barrett's confirmation hearings:  
Judge Barrett was only able to name four of the five freedoms of the first amendment
Barrett tiptoed around many topics such as if climate change was real, her plans to overturn supreme court rulings regarding abortion or gay rights, the ethicality of separating children from their families to deter immigration, and whether President Trump can delay the election/ pardon himself. 

She also refused to acknowledge her stance on the supreme court ruling of Obergefell v. Hodges, which lifted bans on same-sex unions.

However, she did state that she supports the supreme court rulings Brown v. Board of Education, which ruled against segregated schools, and Loving v. Virginia, which ruled against bans on interracial marriages, saying that "Loving follows directly from Brown."   
As of October 26, 2020 Amy Coney Barrett was confirmed to the Supreme Court. After an unanimous vote by the Judiciary Committee, Barrett has become the 115th Associate Justice on the U.S. Supreme Court and only the fifth woman to serve. With the presidential election right around the corner, it will be interesting to see how Barrett's nomination will affect the future of our country.